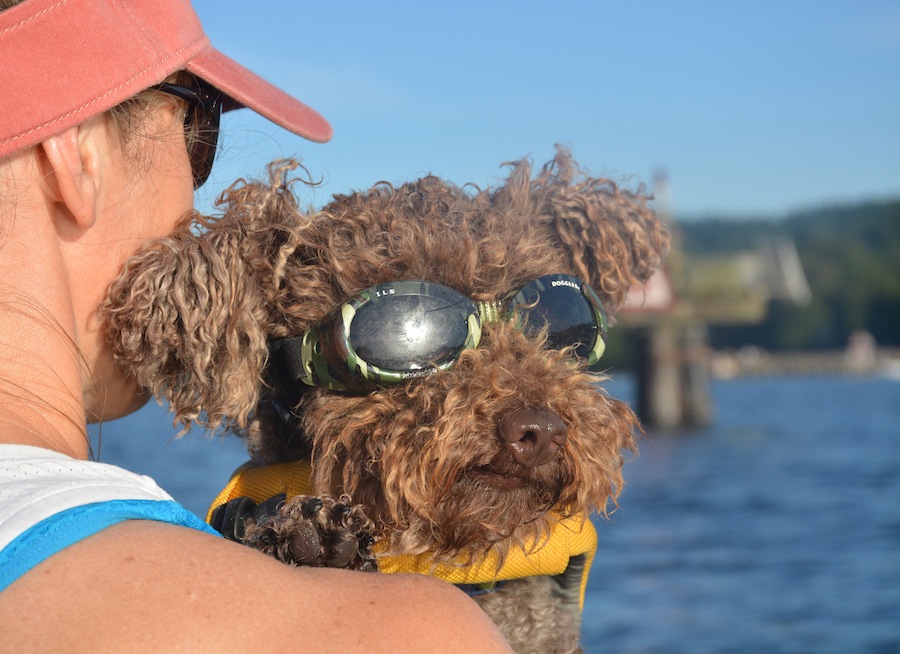 I always wear sunglasses when kayaking for the obvious reason of protecting my eyes from the sun glaring off the water.
As many of you know my dog Seth comes kayaking with me almost every time.
It occurred to me that his eyes need UV protection as well. I noticed in the hot weather that he squints because the sun is shining in his eyes when riding shotgun in my kayak.  He also sometimes has to deal with heavy wind and water splashes in his eyes when paddling in choppy water.
There is an awesome holistic vet in my area who I follow on Facebook. I love reading his posts and seeing pics of his dog.
He is very active with his dog as well and I noticed that his dog wears these doggy sunglasses when doing outdoor activities.
So I did a little research and found a few different brands but finally settled on the Doggles.
I loved what I read about them, they seem to be quite popular and they mostly have all great reviews.
It's always a gamble with dog gear… I never know if my dog will take to it or not.  Doggie sunglasses seemed risky and I wasn't sure if Seth would wear them.  However they weren't expensive and I thought it was worth a try.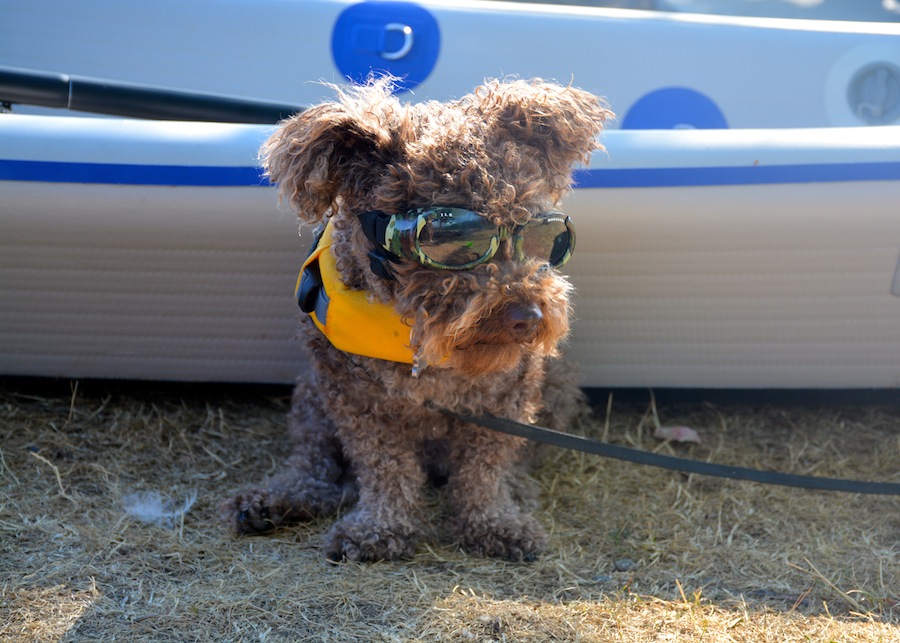 What Are Doggles?
Doggles are essentially protective eyewear designed specifically for dogs.
Apparently these Doggles have been around for over a decade, I totally didn't know about them until now.
I'm not really into dressing up my dog, however he does a lot of outdoor activities with me and when paddling in particular I want him protected.
He wears his PFD every time we are on the water and now his Doggles are part of his paddling gear.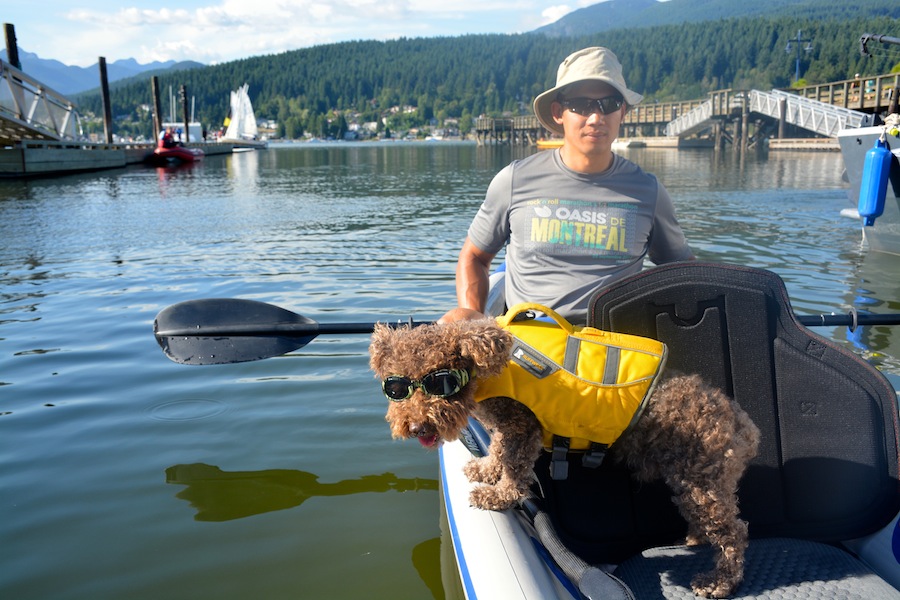 Doggles Eye Protection
Besides looking adorable these are the benefits your dog will get from wearing Doggles…
They offer 100% UV protection.
They have shatter proof lenses.
They have anti-fog treatment on the inside of the lenses.
They can be used on dogs of all shapes and sizes.  They are ideal for the active dog but I think also extremely useful for..
dogs who like to hang their head out the window when driving
dogs that accompany you on a motorbike
dogs that are sensitive to light
dogs that spend a lot of time outdoors in the sun
dogs that spend time on boats or kayaks or SUP's as they protect not only from sun but also from wind and water sprays
How The Doggles Fit
They have a chin strap and a strap that goes over the head behind the ears. The straps are a wide elastic material and are adjustable.
The two straps keep the Doggles securely on. They come in sizes from extra small to extra large.
Seth is a poodle/terrier mix and weighs approximately 14 lbs.  I got him a size small and they fit really well.
In order to get the proper fit you will need to measure the entire head circumference of your dog across the eyes and around the entire head under the ears.
I actually didn't do any measurements before I ordered them from Amazon. I figured Seth would be a small or extra small and just determined his size by reading the reviews of others.
Also if you look at their sizing chart it will give you an idea of sizing by breed.
Luckily the size small worked out but you may want to measure to be sure.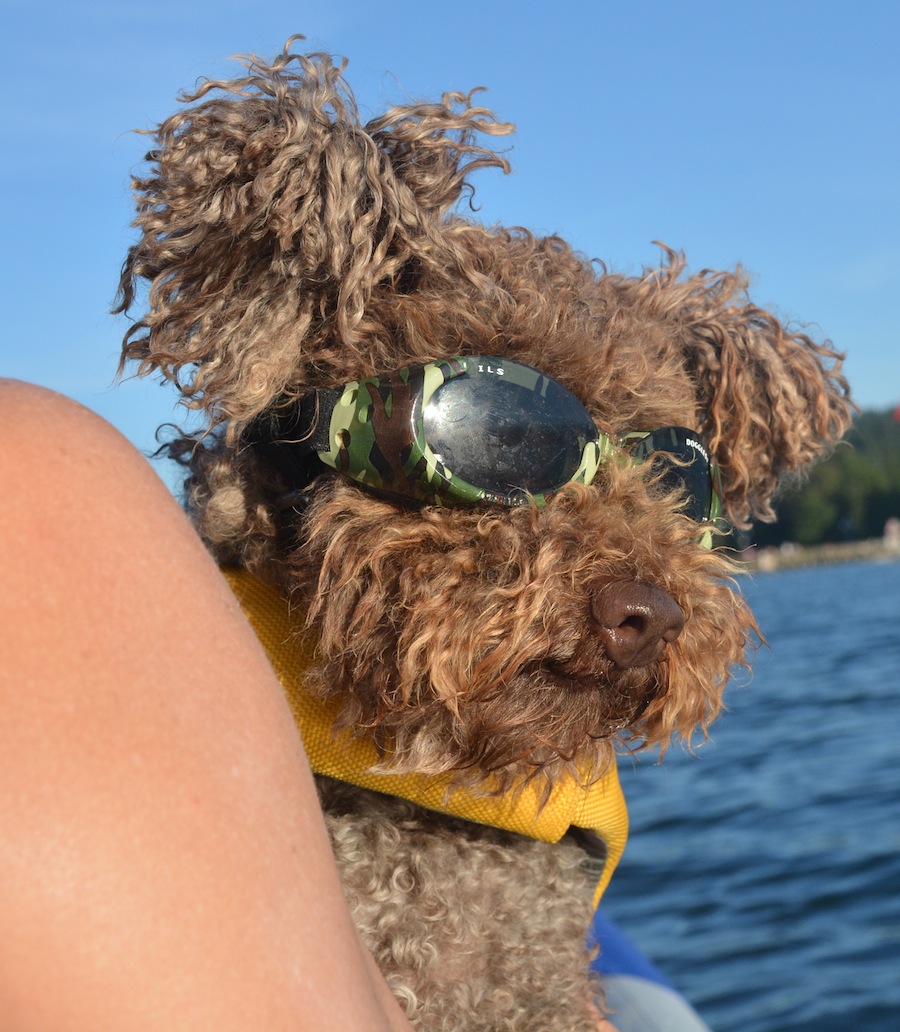 ILS = Interchangeable Lens System
The Doggles come in two options. The Doggles Originalz or the Doggles ILS.
Both are rated highly. The Originalz are just the original version, exactly the same except you can't interchange or replace the lenses.
The ILS models have interchangeable and replaceable lenses. You can buy the lenses (in different colors) separately if you need them.
I bought the ILS Doggles. They normally cost a few bucks extra but on Amazon I found they were the same price as the Originalz.
I thought it would be nice to be able to replace the lenses if I needed to down the road.
Color Options
There are a lot of color options. So you can choose one that will suit your dogs personality and style.
Seth got the Green Camo glasses. I love them and would give them 5 stars. They seem durable and rugged.
The other color options that I've seen are black, blue, chrome, flames, leopard, light blue, lilac, pink, pink zebra, red, or skulls.
Seth's Opinion On Wearing The Doggles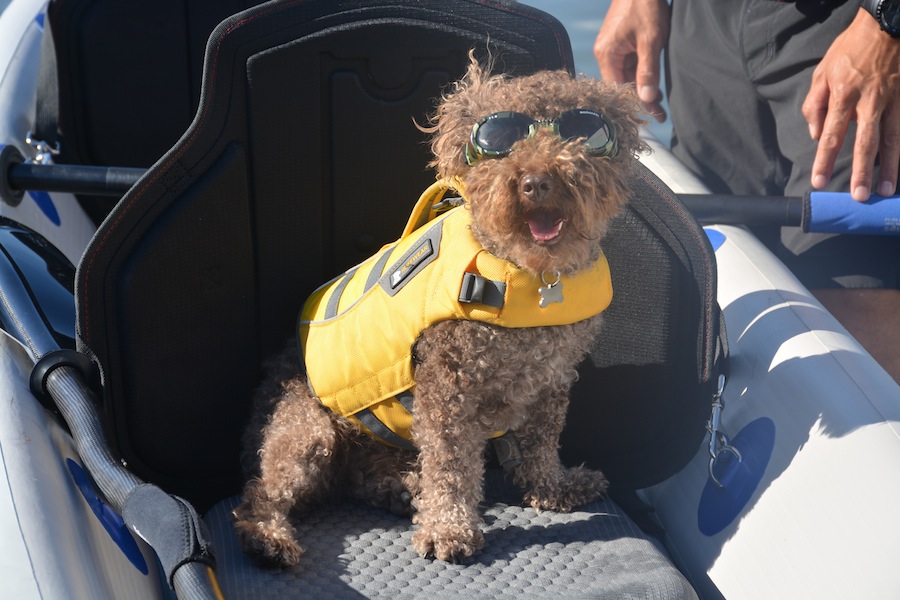 "When my mom pulled out the Doggles she seemed really excited so I was excited to check them out.
However she knows I don't like wearing anything on my head so I was a little surprised when she put them on me.
My fur is a little long around my eyes so my fur got stuck inside the glasses at first and I couldn't really see.
I made a big protest until mom finally cleared the fur out of my eyes. Still though I didn't see the point of having these things attached to my head so I pawed at them for awhile to make my point.
Unfortunately I couldn't get them off and my paw just got stuck in the elastic strap so I had to hobble on three legs for a second and felt kind of dumb.
I could see mom was trying hard not to laugh, ugh. However she got the point and to my relief she took them off.
The next day mom, dad and I were going on a kayaking trip. I was ultra excited!
I didn't even care when mom put my Doggles back on in the car… she said it was to get me used to them. I accepted because I didn't want to risk getting left at home.
I got to take them off when we parked the car but once the kayaks were ready to go she put on my lifejacket and then she told me the Doggles were now part of my paddling gear and put them on too.
I could accept that. It didn't make sense to me wearing them around the house but on the water I found they were very beneficial.
I didn't have to squint so much in the sun.  Plus I really love the feeling of standing on the tip of the kayak nose while my parents paddle and sometimes water splashes my eyes.
The salty ocean water doesn't feel so good when it gets in my eyes. With the Doggles on, that didn't bother me at all.
As a bonus I found that when I wear my Doggles I get a LOT of extra attention and compliments, which makes me feel extra special and super happy.
I give these Doggles 4 paws. The fit me well and didn't hurt or itch. They protect my eyes and make me look like a superstar.
However when not paddling I refuse to wear them. Mom says I'll get more used to them over time… we'll see.
I hope she remembers to wipe her finger smudges off the lenses next time so I can see out of them clearly."
Where To Buy The Doggles
Best price hands down is at Amazon.com, especially with the free shipping.
Click Here For The Best Deal On The Doggles At Amazon.com.
Did You Know?
By clicking on the above seller links you can help keep InflatableKayakWorld.com growing. When you make a purchase after clicking on our links, the retailer will contribute a portion of the sale to help support this site. It won't cost you anything extra and it's a simple way to help us fund our kayak and gear reviews. Thanks!