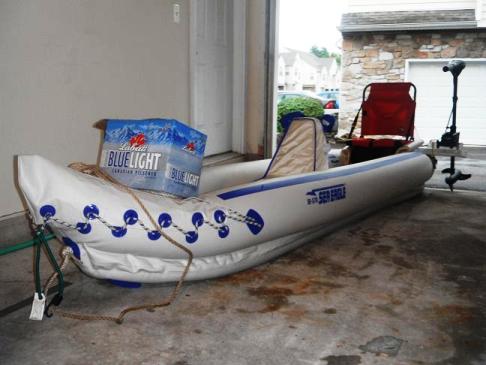 I received an email a while ago from one of our visitors named Ben who explained how he custom outfitted his SE 370 inflatable kayak to suit his needs.
I thought what he did was really creative and showed the possibilities of what you can do with your kayak if you have the desire to put in a little work.
For those who are interested in making custom additions such as adding a motor, extra skegs or an oar holder, then check out Ben's explanation below of exactly what he did to sup up his Sea Eagle 370. Many of these additions could be done on just about any inflatable kayak.
Below is an explanation of the additions in Ben's own words…
Additions to the SE 370

"In case we got tired of paddling around, why not add a trolling motor? I've seen them on canoes so why not the SE 370?

To start with the trolling motor mount, I purchased a piece of 9 1/2″ x 60″ x 3/4″ PVC board (~$5) and rounded off the bottom edges with my router.

I then attached the aluminum pieces (free) on the top and secured with 3/4″ stainless steel screws ($4) for strength. I drilled holes in the PVC board & aluminum to use for bungees etc.

For the vertical mount I cut 2, 5″ wide pieces of the PVC board & glued together with waterproof PVC cement and secured them with the 2, 3″ galvanized angle brackets ($2) with 3/4 inch screws and butted to the aluminum frame. It probably weighs 10 lbs.

We purchased the MinnKota C30 motor (~17 lbs.) and battery (~35lbs) at Cabellas. To counter balance the motor I made a drag anchor that weighs ~15 lbs.

All in all the setup works great as I can secure the mount to the SE 370 with 2 short 8" bungees to the rope points on the skirt. We are still well within the 650lbs limit of the SE370 even with our gear, cooler etc.

Additionally I have made an "oar holder" accessory so to keep the oar somewhat secure and out of the way while fishing or under power. It only shows 1 but I have another for the right side too. As for the extra skegs I added they make all the difference in the world, especially paddling, even in windy conditions! It tracks great!

We've been "trolling around on a few lakes & rivers all summer and the people we see in other inflatable's including SE350s are amazed at our setup and how fast we go! I'm sure SE could add these items as accessories in their catalog :-).

My next SE improvement will be to add 3 "eyelets" to each side spaced 2 feet apart."
See more pictures of the custom additions to the Sea Eagle 370 on our Fickr page.
Thanks Ben!! It is great to see the possibilities of what can be done and the guidance on how to do it is much appreciated.