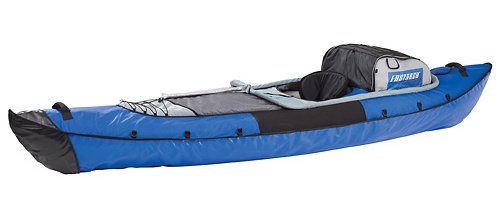 Best Uses: Flat water, recreation, mild whitewater
Brand: Coleman
Available At: Amazon.com – Coleman Exponent Fastback
Number of Paddlers: 1
Stats: Length 10′ 10″, Width 35″, Weight 29 lbs, Load Capacity 310 lbs.
Accessories Included: Retractable spray skirt, water resistant pouch, repair kit, 1 year warranty
Kayak Material: 30 gauge PVC bladder, 840D nylon on top and 840D woven, laminated nylon on bottom
Pros: Retractable spray skirt, good amount of storage room, lots of d-ring hooks and pull handles, affordable, light weight, very easy to inflate and deflate, fairly stable, protects you from elements
Cons: Not fast, doesn't track very well so a lot of your energy will go into trying to keep it straight, performance is so-so, not the best quality, advertised as a whitewater kayak but it is not self-bailing
More Info
The Coleman Exponent Fastback is definitely a beginner inflatable kayak. It is not expensive and gives a beginners performance… meaning that it does not even come close to comparing to many of the other inflatable kayaks on the market.
It is not that it is such a bad kayak. It actually has a lot of great features such as:
a retractable spray skirt – very cool
a waterproof pouch – super handy
an air-tight system and double lock valve which guarantees no air leaks as well as easy inflation
a very affordable price tag
All of these features are very appealing and can help make for an enjoyable paddling experience. However the bottom line is this:
it does not perform well
it does not track well – paddling will seem twice as hard
it will not hold up as well as many others
it is not self-bailing
The Coleman Exponent Fastback is advertised as being speedy and stable. Although stability is not a huge issue with this kayak, I can tell you there is no speed.
It is also advertised as being able to take on some heavy whitewater rapids. It would have no problem in calm rivers or a calm ocean, I would not want to trust it for anything too heavy.
Also there are no self-bailing valves and that is not good if you are going to be in whitewater. So in other words… with this inflatable kayak stick with flat water.
Okay for Beginners
Like I said, this is not a bad inflatable kayak, it is simply not a really good one.
It will suit brand new paddlers who have never kayaked before and want to do some simple recreational paddling on calm waters. It is light weight and would be very easy to travel with or take camping.
This is an entry level kayak with an entry level price tag. It is best suited for someone that is not expecting a lot from their inflatable kayak but just wants to get out on the water and have some fun.
Final Thoughts
If you are looking for a beginner level inflatable kayak that can paddle on flat water as well as calm whitewater then the Exponent Fastback may be a good option for you.
However in my opinion if I had a few hundred dollars to spend on an inflatable kayak I would 100% go for the Sea Eagle 330 or 370.
Both of these are much more rugged, far better quality, self-bailing, come with longer warranties and will perform a million times better… as well as likely last years longer.
Where To Buy
Amazon.com consistently has the best deal on the Coleman Exponent Fastback.
Click here for the best deal on the Coleman Exponent Fastback Inflatable Kayak at Amazon.com
Did You Know?
By clicking on the above seller links you can help keep InflatableKayakWorld.com growing. When you make a purchase after clicking on our links, the retailer will contribute a portion of the sale to help support this site. It won't cost you anything extra and it's a simple way to help us fund our kayak and gear reviews. Thanks!