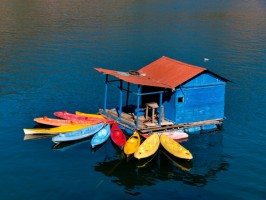 So you've made the wise choice to get an inflatable kayak and now you are wondering which inflatable kayak will be the right one for you. Considering the right factors before you purchase your inflatable kayak will ensure you get the right boat that is going to fit your needs. Know what your own criteria are and consider these points in your decision making process:
What kind of kayaking will you be doing?
Knowing what kind of paddling you will be doing as well as how often you will be doing it is key.  There are all different types of inflatable kayaks that are geared for the complete beginner to the more advanced paddler.  Choosing the right one will allow for a more enjoyable and rewarding experience.  Have a general idea of how often you will be kayaking.  That will determine the quality of boat you will want to purchase.  What type of waters will you be paddling in?  Will you be mostly on the lake, on the ocean or in the whitewater rapids?   Having a general idea of what kind of kayaking you will be doing most will help you to choose a kayak that you will be happy with.
Weight and Portability
Inflatables are an excellent alternative to hard shelled kayaks as they offer easy storage, convenient portability, are fairly light weight and are excellent for traveling. Even though they tend to be slightly lighter than the traditional kayak they can differ considerably within themselves in size and weight. You will want to be conscious of your own personal size and weight when considering which inflatable kayak to purchase as well as how much gear you will likely bring with you. Take a look at our comparison chart to view the specs of all the different kinds of inflatable kayaks.
Passenger Capacity
There are single passenger inflatable kayaks as well as double passenger inflatable kayaks.  A single passenger kayak tends to have more maneuverability than a double passenger kayak.  However a double passenger kayak can certainly be very fast and stable.  A double (tandem kayak) offers the option of bringing along someone who perhaps doesn't have the experience that you do.  They are great for couples and families.  It all depends on whether you want to share your boat with another person – or perhaps with your favorite pet for that matter. As an option there are a few tandem inflatable kayaks that can be converted into a solo kayak. This offers the convenience of paddling with a friend or going out on the water alone.
Maneuverability
Certain kayaks will maneuver better than others.  Some will be great at tracking straight ahead and others will be great at turning easily.  As a general rule, a shorter boat will maneuver better and a longer boat will track better.  If you are just starting out you will notice that the beginner boats are shorter and wider.  A more advanced kayaker may want a longer, narrower boat so that they can pick up higher speeds and have good tracking.
To get detailed information on the different types of inflatable kayaks, check out our comprehensive reviews of inflatable kayaks or our extensive inflatable kayak comparison chart.
To find the best places to shop for your inflatable kayak view our Top Online Retailers page.