If you are looking for an inflatable kayak and trying to keep the cost down there are several cheap inflatable kayaks on the market ranging in price from under $100 up to $500. I wouldn't consider anything over five hundred to be a cheap inflatable kayak.
Some cheap kayaks are better than others, but there are some common problems to be aware of when spending very little on an inflatable kayak.
Common Cheap Inflatable Kayak Problems
Usually a cheaper inflatable kayak will be constructed with cheaper materials. The materials will not likely be as tough and not usually have as many layers as higher quality inflatable kayaks do. Therefore they tend to be weaker and more susceptible to problems.
These cheaper materials can cause several problems: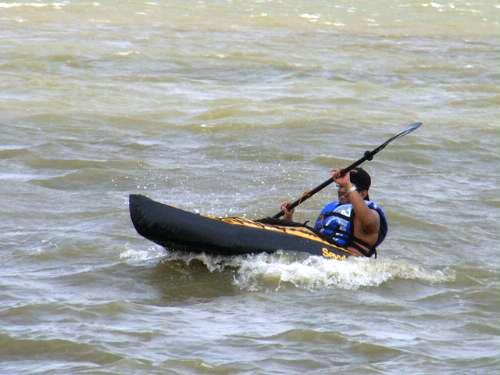 The possibility of tearing the material easily.
Sagging in the middle of the inflatable kayak when sitting – especially with a heavier person.
Poor performance, lack of tracking, harder to paddle.
Besides the cheaper materials they usually are not constructed as well. The kayak may have been manufactured overseas and the quality questionable. Consequently sometimes there is a problem with seams coming apart and material unraveling.
Another very common problem with cheap inflatable kayaks is their lack of performance. Rarely will you find a really cheap kayak that actually delivers. It will usually not have very good tracking and often can get easily blown by the wind.
The worst problem you might see with a cheap inflatable kayak is air leakage. The last thing that any kayaker wants while paddling an inflatable kayak is to be losing air. A rigid inflatable kayak will always provide for a better ride. Air leakage causes sagging and will make the kayak very difficult to paddle. Usually the air leakage is cause by cheap valves. This is definitely something to watch for.
Should You Purchase a Cheap Inflatable Kayak?
Sure absolutely. If you only have a certain amount of money to spend and you want an inflatable kayak to be able to get out and enjoy the water on nice days then by all means go for a cheap inflatable kayak.
Be aware of the problems listed above and decide exactly what your priorities are for an inflatable kayak. A cheap inflatable kayak can be a great way for brand new kayakers to experience paddling for the first time and they also can be great to take traveling.
There are plenty of cheaper inflatable kayaks that do offer great quality. Do the research, read the reviews and make an informed choice. If you are purchasing an inflatable kayak from a reputable kayak manufacturer you will not likely have many problems. If your expectations aren't too high, then a cheap inflatable kayak will still provide you with many days of paddling pleasure.
Please see our inflatable kayak reviews for more detailed kayak information.