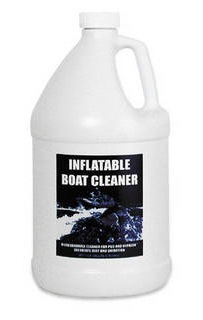 With some proper care, your inflatable kayak should last you for many years and still be in near perfect condition. These simple steps will help to ensure the health and longevity of your inflatable kayak.
How to Care for your Inflatable Kayak
Store it in a cool, dry spot – make sure the kayak is clean and dry before you pack it up so that no mold can accumulate. If there is a little moisture left over (possibly in the tubes) after you have dried it, leave it partially inflated for a few days in a dry area to completely dry it out before packing away.
Use a protectant to help with UV damage protection. A 303 Protectant spray will greatly prolong the strength and the life of your inflatable kayak material by protecting it from the harmful UV rays. It is really cheap to buy and easy to use. This is your inflatable boat "sunscreen" and should be applied every 1 – 2 months for ultimate protection.
Use an inflatable boat cleaner to remove dirt, oil and tough stains on the kayak and then afterwards put on your 303 protectant. If you don't have a specific inflatable cleaning agent then you can also use a all natural cleaner as well… just stay away from harsh chemical cleaners that could do harm to the material.
If you leave your inflatable kayak outside, raise it off the ground and cover with a tarp. Don't allow it to be exposed to direct sunlight, leaves, berries or rain.
How to Repair your Inflatable Kayak
If your inflatable kayak should need some simple repairs you may be able to easily follow the instructions provided in your owner's manual with your kayak repair kit (comes with all inflatables).
Follow the instructions carefully and have them with you on all your kayak outings. It's useless to have the repair kit with you but not the instructions on how to use it should you be stranded somewhere. Try not to carry out the repairs in direct sun or rain.
Inflatable kayaks are some of the safest boats in the world – used by the Coast Guard as well as the military and many rescue agencies around the world. Punctures occur occasionally and if they do, most leaks only take a few minutes to repair.
Have a Small Leak?  No Problem…
For small repairs, deflate your boat, clean and dry the area to be repaired thoroughly. Apply a small drop of glue. Let dry 12 hours. If you need to get on the water sooner, let it dry 30 minutes then inflate the boat, inflating the area with the repair only ¾ full. Then make a permanent repair later.
For larger repairs, you may need to use a patch. A good rule of thumb is any leaks larger than a pinhole – use a patch. Most patches can be done very quickly within a few minutes. If it is major, contact the supplier and see if it is on warranty or take it to an inflatable boat repair center.
How to Locate the Leak
If you are having a hard time locating the leak – apply soapy water, as it will bubble out from the source of the leak. From there, follow the instructions above.
Using the proper care and doing the right repairs will leave your kayak in near new condition for a long time. Repairs are not needed often, in fact sometimes never at all. Knowing how to handle one though will help you to be prepared for the worst.
Always study your owner's manual when you first get it so you know the ins and outs of your own specific model of inflatable kayak.