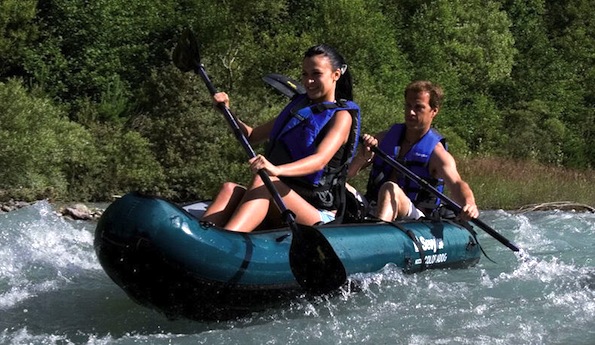 Although it is easy to grab your canoe and just head out onto the water, it is important to stop and put together a few safety items first.
If you have these items gathered in a paddling bag or kept near your canoe then you won't have to bother trying to remember what to bring each time.
Below are ten items you should never leave without when going out in your canoe…
1. PFD – A personal flotation device is a must for any type of paddling activity. Even if you will be paddling on flat water and have tons of experience it is still important to wear your PFD.
If you tip from your canoe there is always the possibility that you will be knocked out, caught in debris, injured or stranded. A PFD could save your life.
2. Hat or Helmet – Wearing a hat while paddling can shield you from the damaging effects of the sun as well as help retain your body heat on cold days.
If you are a whitewater paddler, then an approved helmet is a requirement. Any whitewater paddler will know that rolls, tips and in general head banging activity can happen often and a helmet is required to protect that head of yours.
3. Proper Footwear – Wearing appropriate footwear for the water and weather that you are in can make all the difference in providing a comfortable ride and keeping your feet warm and protected.
Water booties for colder weather are essential and closed toe sandals work great for warm weather conditions. If you are paddling in the winter then water socks worn inside your water booties will keep your feet warm and toasty.
4. Whistle – Having a whistle attached to your PFD simply makes a whole lot of safety sense. Once it's attached, you never have to think about it, but it is there if you should need it.
Many people do not realize that when you are out on the water it is near impossible to be heard if you are yelling and in trouble. A whistle – in particular a specific kayaking or canoeing whistle will make sure you are heard if you need to be.
5. Bilge Pump – I always like to have a bilge pump with me while I paddle. Canoes are typically totally open and high rapids or waves could cause excess water to land in your boat.
A bilge pump allows you to easily pump some of the water out. It is also handy if you should tip and end up with lots of water in your canoe. Bilge pumps can be found at most boating stores and do not cost much.
6. Repair Kit – If you are paddling an inflatable canoe then it is always a good idea to have your repair kit with you. All inflatables come with their own repair kit and typically include a couple of patches and some waterproof glue.
I have never had to use mine but I always keep it in my dry bag just in case. Repairs can be done easily and quickly and the glue dries super fast.
7. Food and Water – Snacks are not only great for keeping up your energy but as far as I am concerned they make the whole experience better! Water is important so you do not get dehydrated.
Remember that you can dehydrate quickly while paddling and often with the breeze coming off the water you don't realize it is happening.  Continually sipping on water will keep you feeling good.
8. First Aid Kit – There are some pretty extensive pre-packed first aid kits available for canoes and kayaks. If you will be mainly doing short day trips then just the basics are probably all you will need. Keep your kit in a dry bag or dry box in your canoe.
9. Dry Bag – A dry bag is where you will store everything that can not get wet such as your keys, wallet, cell phone, food, first aid kit extra clothes, towel, map, etc.
Dry bags come in a variety of sizes so there is truly one to suit each persons needs.
10. Sunblock – Sunscreen is a given if you will be out in hot sunny weather. I am ashamed to say that I have gotten some of my absolute worst sunburns while out paddling. It's amazing how quickly you can burn while out on the water.
Always wear sunblock and bring extra with you. Sunglasses and lip balm are also a good idea in sunny weather.
These 10 items should be kept close to your canoe so they are easy to grab and go whenever you feel like it. I keep all of these things in a paddling duffel bag that is ready to go when I am.
There are other items that are weather specific such as gloves, dry top, paddling jacket, and bathing suit that you may also need.
However the above 10 items are the most important for a safe and fun paddling experience.
Still need a canoe? Click Here To See A Full List Of Inflatable Canoe Reviews To Find One That Will Suit Your Needs.