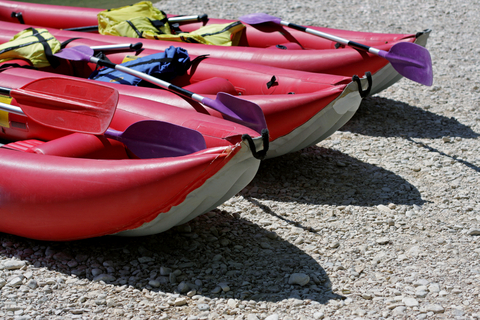 If you have an interest in purchasing an inflatable kayak but haven't quite made your decision yet there are a few steps you can take in order to make sure you are making the right choice.
Inflatable kayaks can vary greatly on all levels, including in price. Doing just a little bit of research will help you to feel comfortable with your decision. 
Below are 4 easy steps you can follow to make sure an inflatable kayak is right for you as well as questions to ask yourself before the actual purchase.
Step 1 – Try Kayaking First
If you have already experienced kayaking then you do not need to worry about this step. However if you haven't then it is wise to try it out first and see if you enjoy the sport of paddling. Paddling a kayak can be quite different than paddling a canoe and you can easily experience kayaking in two ways:
Go out with a friend who already owns a kayak or see if you can borrow their kayak for the day… this is especially helpful if they own an inflatable kayak.
Rent a kayak for a couple of hours – Depending on where you live, it may even be possible to rent an inflatable kayak.
This is a good way to see if you and your family enjoy paddling as well as if you would incorporate this recreational activity into your life.
Step 2 – Take a Kayaking Lesson
By signing up for a kayaking lesson you will learn some excellent and useful safety tips as well as different kayak strokes. If you don't take a lesson before you purchase your kayak it is recommended that at some point down the road you sign yourself up for at least a one hour lesson just to learn the basics and know the safety protocols. You can also learn a lot online but first hand experience is always best.
Step 3 – Watch YouTube Videos and Read Reviews
Although some local kayak stores do carry inflatable kayaks, they usually do not carry all of the models. Therefore it can be difficult to really get a feel for the inflatable that you may like. Without actually seeing the model in person, the best way to get a feel for it is to:
a) Look for pictures and reviews online (such as on our website!)
b) Watch YouTube videos to get a clearer idea of what the inflatable kayak looks like, as well as the setup and how it paddles on the water. This is a great way to see regular people using their inflatable kayaks and can give you the most real life experience without actually being there with the kayak yourself.
Step 4 – Compare the Specs
Once you have read the reviews and seen pictures, you can go to our Inflatable Kayak Comparison Charts and really compare the specs of each model. This will help you to easily compare between several different models as well as to get an idea of the differnt size, weight, load capacity, style and price range of all the different makes and models.
Questions to Ask Before Choosing Your Inflatable Kayak
If you are now sure that an inflatable kayak is right for you then you will need to ask yourself these 4 questions:
1. How often will you go out kayaking? Once you determine how often you will likely paddle, this will help you to decide how much you want to spend. If you just want to take it out once or twice during the summer then you probably don't need to invest much money into your inflatable. However if you plan on some regular use then it would be wise to spend at least a little more to get a good quality kayak that will last you a long time.
2. Will you be kayaking mostly solo or tandem… or with your family? If you want the option of bringing along a friend or family member within your own inflatable kayak then you will need to look at tandem models or convertible models (where there are two or more seats but the seats can be adjusted to be paddled solo or tandem).
3. How much weight can you carry? Weight can vary greatly so if you will be paddling mostly solo then it is wise to make sure you get a model that is easily carried by you alone.
4.How much weight do you need the inflatable kayak to carry? Load capacity can also vary greatly. Therefore take into consideration your own weight as well as the weight of any friends or family members that will be joining you. Also take into consideration how much gear you will need to bring along, especially if you plan to do multi-day trips.
Paddling an Inflatable vs. a Hard-Shell
Paddling an inflatable kayak is really quite similar to paddling a hard-shell kayak. Depending on the model you choose it may have a slightly different feel as they tend to be a little wider and more stable but in general the feeling is the same.
If you have already tried kayaking in a rigid kayak then you will have no problem with an inflatable. The better quality inflatable kayaks will paddle better than the cheaper inflatable's just like the better quality hard-shells will paddle better than a cheap hard-shell.
Which one you choose will totally depend on your needs, your budget and how much time you plan to invest in kayaking.
To begin searching for inflatable kayaks see our Top 5 Inflatable Kayak Reviews.