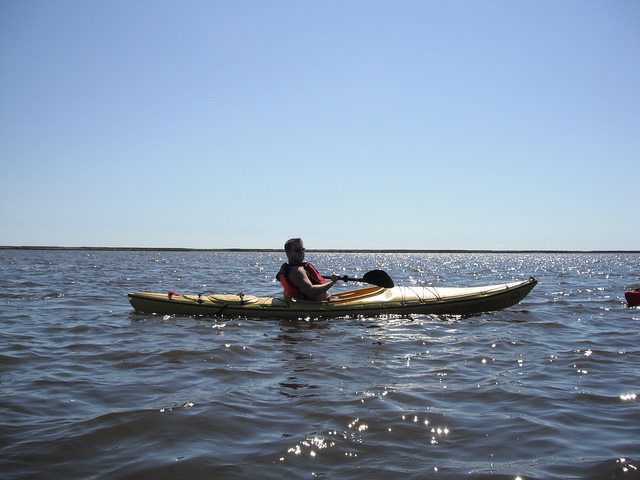 This is a guest post by Steve Hanson. Steve is a paddle sport enthusiast with many years of kayaking and boating experience.
It is no good resisting the temptation any longer; you are hooked on paddle sports and have decided that it is time to buy a kayak of your very own.
How difficult can it be? Aren't all kayaks pretty similar? Just choose your favorite color and away you go? Erm no, there is much more to it than that.
Here are a few things that you must take into account when you buy a kayak or any other type of paddle sports equipment.
Read and learn, it will not only enable you to buy the kayak which is suitable for your own individual needs but it could also stop you from wasting your hard earned cash.
Questions to Ask Before Buying a Kayak
Where will your kayak be used? Do you usually paddle over calm lake waters or running rivers? This really is important, horses for courses and different types of kayaks for . . . different types of water.
How often will you use your kayak? Be honest with yourself here, you know yourself better than anybody.
Are paddle sports just the latest in a long line of interests that end up being sidelined after a couple of weeks?
Will your kayak be taken out every weekend or just once a year at vacation time?
Is your kayak likely to spend more time hanging on the garage wall than it is in the water?
Who will be your kayaking partner?
Do you need a single, a tandem or a 3-person kayak? Do you enjoy paddle sports with your partner or does the whole family like to get involved?
Or maybe you prefer to paddle alone?
Best Time To Buy a Kayak
If you are looking for a bargain then you need to shop for your kayak off-season. You will probably find however that choices are limited.
You will get an end of season bargain but there will not be too many to choose from.
During the summer months of July and August many retailers try to clear out stock to make room for the newer models for the following year.
Difference Between 'Brand' of Kayak and 'Type' of Kayak
Kayak advertisements can be a little confusing. They are often written with the assumption that the person buying the kayak knows all about them.
Beginners can quite rightly get extremely confused. The 'brand' of the kayak is the name of the kayak or the name of the company that manufacturers the kayak. There are literally hundreds of different kayak brands around.
The 'type' of kayak, however, is something a little different. The type of the kayak refers to the shape of it, the characteristics and what type of use it is suitable for.
What Are Recreational Kayaks?
These are definitely the most popular type of kayak for the amateur and the beginner. They are designed for recreational use over flat or calm water.
Some have one cockpit, some two (tandems) and some three (tri-aks).
If the kayak you choose has just the one seat you are advised to buy one with the seat in the center of the kayak, which definitely helps with the balance, especially if you are pretty new to paddle sports.
What About The Size Of the Kayak?
The size of the kayak you choose largely depends on your physical size, your height and weight.
When considering your weight do not just take into account what the scales say in the mornings before you've eaten breakfast. Also take into account the weight of the other paddlers and any gear you might be taking along with you.
Kayak Cockpit Openings
Taller people will find it much easier to get in and out of their kayak safely with a relatively large cockpit opening. It's pure physics.
Getting in and out of the kayak easily and safely is a very important consideration and should not be taken too lightly.
If you cannot get into your kayak without getting dunked in the water, the chances are your kayak will soon end up hanging on the garage wall while you go out to play another type of sport.
This is one of the reasons that inflatable kayaks are so great. Their stability and width make them very easy for people of all sizes and skill levels to get in and out of.
Kayak Length
The basic rule of kayak length is this…
Long kayaks glide along smoothly but are more of a problem to steer.
Short kayaks are better at dealing with waves and easier to balance, the shorter the kayak the more stable it will be.
The Color Of Your Kayak
When you are talking kayaks color is very important. It is not just so that you match in with your life jacket and look cool in the latest shades.
There is a much more serious side to choosing the best color for your kayak than that.
It is important to stay as safe as possible and it is much easier to see nice bright colors from a distance than those which kind of blend in with the surroundings.
If you get into trouble on the water you will certainly hope that somebody will notice what is going on.
Not all kayak models are a bright color. Therefore there are some great safety precautions you can take to make sure you are noticed in the water…
Wearing a bright colored lifejacket will really help. You can also add reflective tape to the sides of your kayak (if it does not already have some).
Paddle sports of all kinds are a lot of fun and a great workout. Take the above points into consideration when purchasing your kayak and you will be well on your way to many enjoyable days on the water.