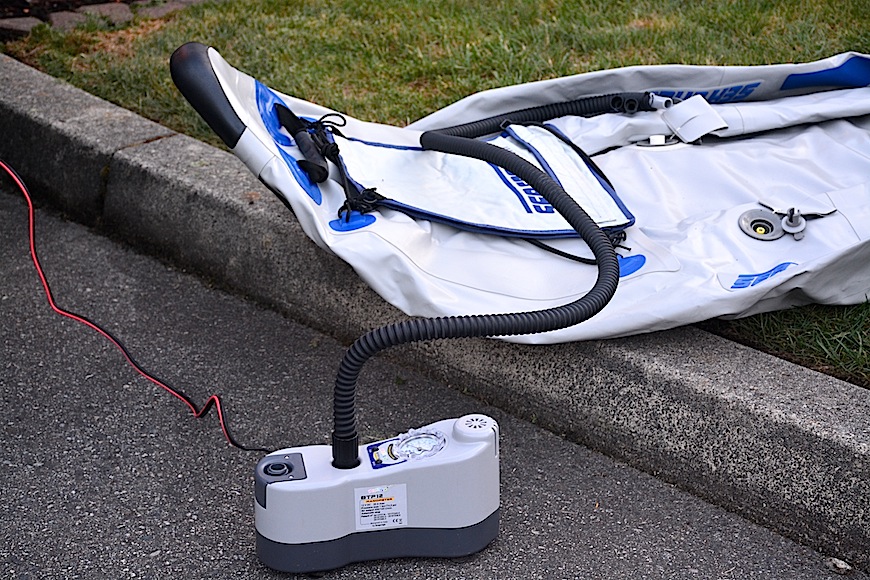 Pumping up an inflatable kayak is not that hard. Even using a standard foot pump or hand pump doesn't take an excessive amount of time.
For years I used a foot pump and was quite happy with it. I always found the foot pump to be a lot less back breaking than using a hand pump.
However when I finally got the chance to try out a good electric pump, I could never look back.
Perhaps it's laziness but inflating my kayak in only a minute without lifting a finger is pretty nice.
The BTP Two Stage Electric Turbo Pump is the one that I tried and fell in love with.
I had tried other electric pumps in the past but they were cheap versions that never quite worked right and usually didn't have the right attachments for the inflatable kayak valves.
This electric pump works really well, is simple to use and is super fast.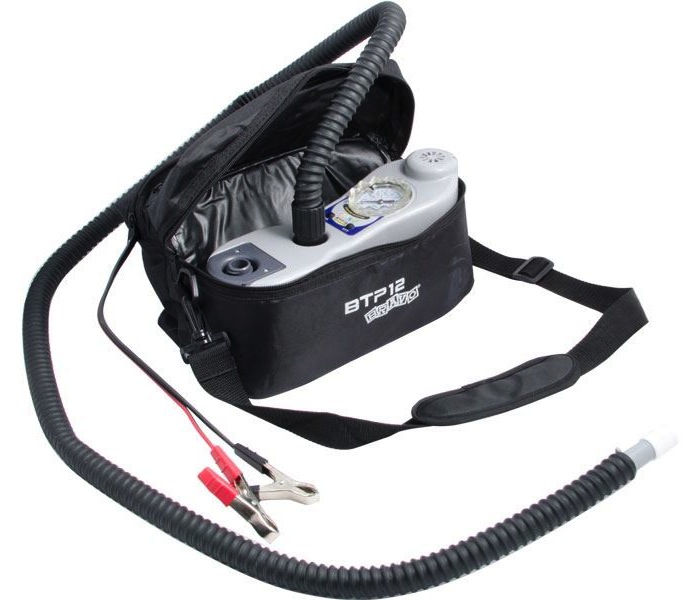 Important Features
This pump has two stages. The first stage is for low pressure, which inflates the majority of the kayak quite quickly. Then it switches to stage 2, which is the high- pressure mode. This stage is a bit slower but will get your kayak as rigid as it needs to be.
You can set the PSI level on the pump and it will shut off automatically once it reaches it.
Comes with 8'6" alligator clips to attach to your car battery and a 6' hose so there is lots of room to maneuver.
There is an optional turbo pump 12V lead battery for cordless use available for purchase if desired.
Pump comes with a carry bag and all necessary valve attachments for inflatable kayaks, inflatable SUP's and other inflatable boats and accessories.
Positives
I like this pump a lot and I use it all the time now. It is fast, easy to use, easy to carry and the hose and alligator clips are long enough to be convenient and flexible.
I keep it in the trunk of my car and bring it along with me to the water.
I like that it has an automatic shut off so there is no fear of over inflation and the high pressure mode works great for my kayaks and stand-up paddle boards.
There are numerous valve attachments and they are fairly secure. Sometimes I need to hold the hose while it's inflating but it inflates so quickly this is not a big deal.
Negatives
The only negative I could find with this pump is that it is kind of noisy. Most high-pressure electric pumps are a little noisy because they tend to be quite powerful.
The first stage of inflation is fairly quiet but once it hits the high-pressure mode the noise kicks in.
I've never found it to be a big deal but it's just something to be aware of if you need to be quiet wherever you are inflating your kayak.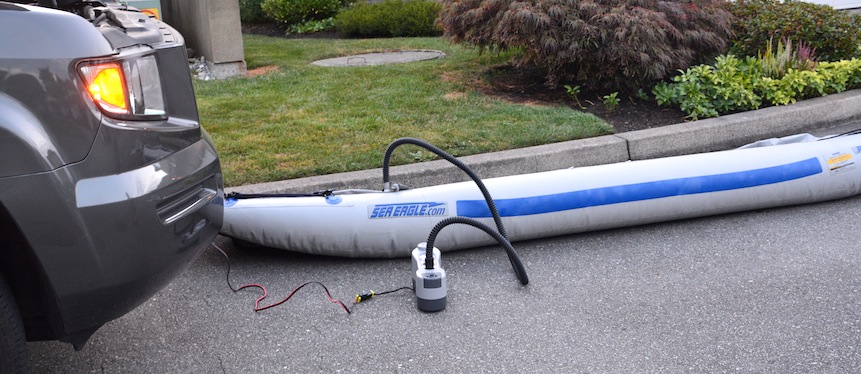 Bottom Line
I think this pump is worth the price and a great investment if you are kayaking fairly often.
It's hard to go back to manual pumping once you've tried a good electric pump.
The alligator clips work great and I find easy to use with my car battery.
However if you prefer a cordless pump, there is the option of purchasing it with a rechargeable battery pack for a little extra money.
Where To Buy
There are a few retailer options for the BTP two stage electric turbo pump.
Click Here For The BTP Two-Stage Electric Turbo Pump At Outdoorplay.com – Use coupon code AV15 for 15% off plus free shipping and NO sales tax.
Click Here For Current Pricing For The BTP Two-Stage Electric Turbo Pump At SeaEagle.com.
Click Here For Current Pricing For The BTP Two-Stage Electric Turbo Pump At Amazon.com.