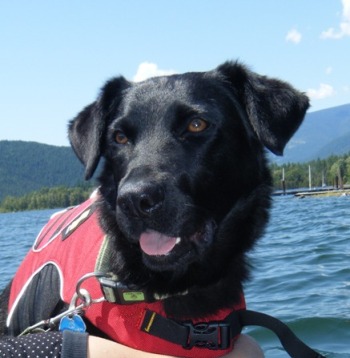 Ruff Wear makes some of the best life jackets for dogs and over the long weekend we tested out the Ruff Wear Big Eddy Float Coat.
Our model was Ellie, a beautiful black lab mix. Ellie is a rescue dog and was adopted a couple of years ago by my friend Lisa. Over the course of two years Lisa has dedicated 100% of her energy into rehabilitating Ellie and helping her to become a confident and happy dog. Although Lisa continues to work with her everyday, Ellie has become one of the most well trained, calm and loving dogs I have ever met.
We chose the Big Eddy Float Coat for Ellie as it very much suits her lifestyle. Lisa and her boyfriend are real outdoorsy people and do a lot of major treks and canoe trips and Ellie almost always goes with them. The Big Eddy dog PFD is intended for active dogs that will be in rough to fast-moving water.
Advantages of the Ruff Wear Big Eddy Float Coat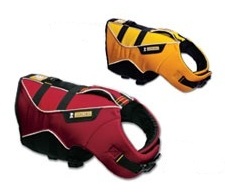 The Big Eddy Float Coat is super rugged while at the same time being very comfortable for the dog to wear. It allows the dog to swim and navigate through fast moving water while providing support, protection and great visibility.
What makes the Ruff Wear dog life jackets stand out from the rest is that they have strategically placed PVC-free buoyancy cells.  This not only supports the dog in a natural horizontal swimming position but it also allows the dog to swim farther distances with less fatigue.
The Big Eddy is ideal for dogs that will be kayaking, canoeing, boating, paddle boarding, rafting, surfing and/or swimming with their leader. It has all the great features an active dog would need in a PFD.
Big Eddy Float Coat Features
Some of the key features of the Big Eddy are:
Strong abrasion-resistant material that is able to withstand extended use and abuse
PVC-free buoyancy cells that help to float the dog in a natural horizontal swimming position
Bright contrasting color designs and reflective trim that are easily visible in the water day or night
A really strong and convenient assistance handle that makes it easy to lift the dog out of the water and back into the kayak or boat or even back up on the dock
All of these features make for a great dog PFD. However my favourite feature is the assistance handle. If you take your dog kayaking or boating with you and you would like to allow your dog to go for a swim part way through your trip, the grab handle can be extremely beneficial in helping to get your dog back into your kayak or boat.
Ellie's Impressions of the Ruff Wear Big Eddy Float Coat
The Big Eddy has Velcro and clips that easily attach around the dogs neck and belly. Lisa and I noticed right off the bat that Ellie seemed perfectly comfortable in her PFD. There was no restriction in her movements and whether she was lying down, walking, jumping or sitting, she seemed perfectly at ease… like she wasn't wearing anything at all.
Ellie walked, played in the water, kayaked and even rested for a while in her Big Eddy Float Coat and never once tried to scratch, bite at it or adjust herself in the PFD. To us she seemed very comfortable and happy so that was a good sign.
Ellie's First Inflatable Kayak Trip with her new PFD
After a few times out in the inflatable kayak Ellie was a pro at keeping watch at the bow. However her first time out she was convinced she needed to lie across Lisa's lap in order to be comfortable which was quite cute to see but impossible for Lisa to paddle.
After a couple more times out, she found a comfortable position either sitting right up front or laying half way on Lisa's lap and half way on the kayak.
It was nice to know that no matter what kind of weather conditions we encountered, Ellie was totally protected and secure in her new Ruff Wear Float Coat.
Where to Buy the Big Eddy Float Coat
Update for 2014:  The Ruffwear Big Eddy Float Coat has been discontinued.