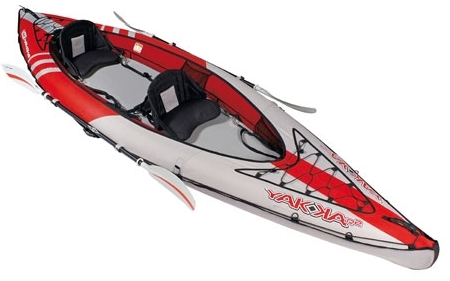 Best Uses: Recreation, flat water, traveling, camping
Brand: Bic
Available At:
Number of Paddlers: 2
Stats: Length 13' 5", Width 37.8", Weight 33 lbs, Load Capacity 550 lbs
Accessories Included: Safety grap lines, abrasion protector, bow protector, carry handles, mooring straps, accessory storing mesh, paddle attachment
Kayak Material: PVC skin
Pros: Nice design, easy entry and exit, lightweight, paddle, no sagging in the middle, holders to free up hands, bungee tie-downs on bow and stern
Cons: Not self-bailing, no access to the bladders, valves not attached to anything, quality of the glue used is questionable
More Detailed Info
The Bic YakkAir 2 arrived on the market in June of 2009. It is best used on flatwater and for light recreational use. The YakkAir has a lot of really great features as well as a very attractive design.
However there are quite a few major flaws with this kayak that need to be considered.
Please read the review for the YakkAir 1 to learn more details about the ins and outs of this new Bic inflatable kayak.
Final Thoughts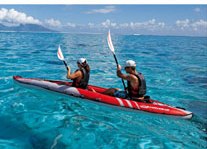 This inflatable kayak has a lot of potential but for the price tag it has, it really needs to step it up a bit.
There are lots of inflatable kayaks these days that are built with absolute quality and with excellent features.
In my opinion Bic needs to make a few improvements to this kayak before it will be taken seriously in a very competitive market. Time will tell how well the Yajkkair holds up.
Where To Buy
Click the links below to find the best deal on the Bic YakkAir 2 inflatable kayak.
Did You Know?
By clicking on the above seller links you can help keep InflatableKayakWorld.com growing. When you make a purchase after clicking on our links, the retailer will contribute a portion of the sale to help support this site. It won't cost you anything extra and it's a simple way to help us fund our kayak and gear reviews. Thanks!