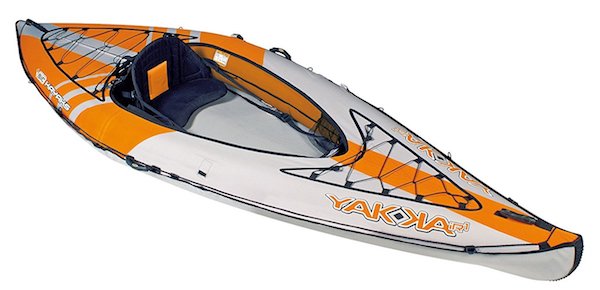 Best Uses: Recreation, flat water, traveling, camping
Brand: Bic
Number of Paddlers: 1
Stats: Length 10' 9", Width 35.4", Weight 21 lbs, Load Capacity 242 lbs
Accessories Included: Safety grab lines, abrasion protector, bow protector, carry handles, mooring straps, accessory storing mesh, paddle attachment
Kayak Material: PVC skin
Pros: Nice design, easy entry and exit, lightweight, paddle, no sagging in the middle, holders to free up hands, bungee tie-downs on bow and stern
Cons: Not self-bailing, no access to the bladders, valves not attached to anything, quality of the glue used is questionable
Available At:
More Detailed Info
The Bic YakkAir is a new inflatable kayak that has just come on the market in June of 2009. It is a flatwater inflatable kayak that is best used for easy recreational use.
The YakkAir was engineered in France but manufactured in China. It was designed by a company that does not have much experience with inflatable kayaks and in many ways it shows.
Bic has done a lot of good things with the YakkAir and made a very attractive looking inflatable kayak. However there are some pretty major flaws that need to be mentioned.
Problems
There are a few issues to bring up with the YakkAir kayak.
For starters there is no access to the left and right tube bladders through a zipper. All bladderized boats allow access to the bladders in case they need to be fixed… i.e. a hole is rubbed through one of the bladders.
The YakkAir fits nice and neatly into a backpack carry bag but it has to be rolled very tightly to fit in. This could cause rubbing which in turn could cause a hole. With no zippered access to the bladders the hole would be unrepairable.
The next major problem has to do with the boston valves. They are not attached to anything and could very easily be lost. They also unscrew right out of the kayak.
You could make your own corrections on this and tie the valves cap loops down with a string if you wanted to.
Another major flaw is that glue has been used for the drop-stitch high pressure floor edges, as well as in many places for the inflatable keel tube under the floor mat. The problem with using glue is that it can be unpredictable.
It could hold for ten years or it could come apart after one or two uses. It depends on the quality of the glue used and how well it was constructed.
The Good
There are definitely some good things about this kayak however. For one as I mentioned before the design is great.
It is a nice looking kayak that is very lightweight and would be extremely easy to take with you anywhere you want to go.
The outer shell of these inflatable kayaks are made with good materials and the bladders are very well constructed with urethane (like the AIRE products) as opposed to vinyl. This will reduce the weight of the kayak and increase its lifespan.
The other great thing about the YakkAir is that the floor chamber is a high-pressure drop-stitch mat not just a vinyl air mattress that can be found in a few other cheaper inflatable kayaks.
This will reduce the sagging effect and provide for a more rigid ride. I also really love the fact that you can attach your paddle to the kayak in order to free up your hands. This is great for those who want to use it for fishing or diving.
Final Thoughts
I think that the Bic YakkAir inflatable kayak has a lot of promise… but is just not there yet. I would personally like to see a few of the kinks ironed out before every really putting it to good use.
There are a lot of really great things about the YakkAir but the negatives are big enough that they cannot and should not be overlooked. I do hope that Bic makes the improvements that need to be done as the YakkAir does have a lot of potential.
The YakkAir also comes in a tandem version… the Yakkair 2.
Where To Buy
Did You Know?
By clicking on the above seller links you can help keep InflatableKayakWorld.com growing. When you make a purchase after clicking on our links, the retailer will contribute a portion of the sale to help support this site. It won't cost you anything extra and it's a simple way to help us fund our kayak and gear reviews. Thanks!