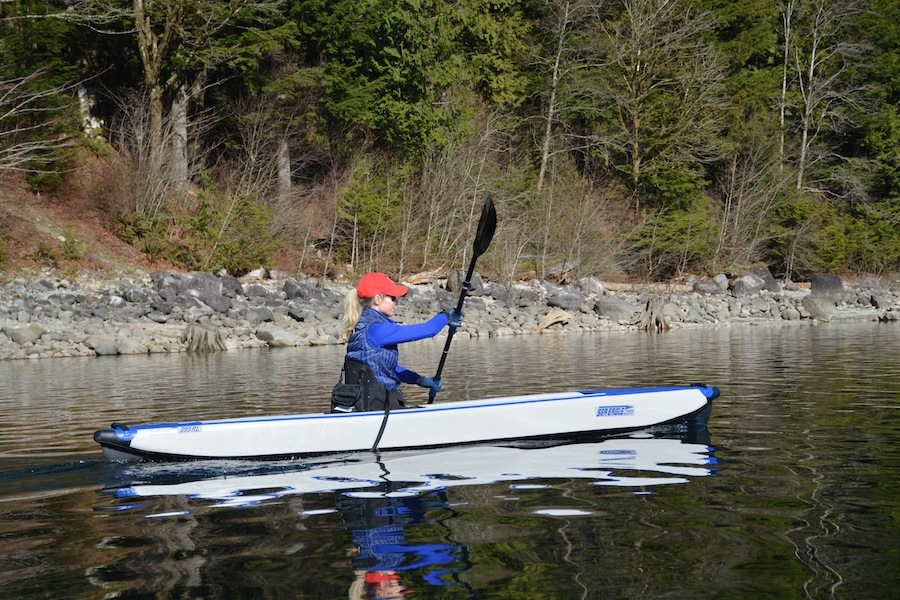 Inflatable kayaks are not normally associated with speed. They tend to be wider, slower and may have more side-to-side yaw movement.
However there are some models that are more streamlined and although they may not be able to compete in a race against a sleek hard shell kayak, they do move at a pretty good clip, glide nicely and track straight.
There are several models that are able to glide nicely and pick up decent speed.
However there are only two kayaks that in my opinion that can really move fast.  They are the solo Sea Eagle Razorlite 393rl and the tandem Sea Eagle Razorlite 473rl.
They are totally unique in the inflatable kayak world and paddle faster than any other IK I have tried.  If speed is important to you then these are the one you will want to consider.
IK's Specific For Speed
SEA EAGLE RAZORLITE 393RL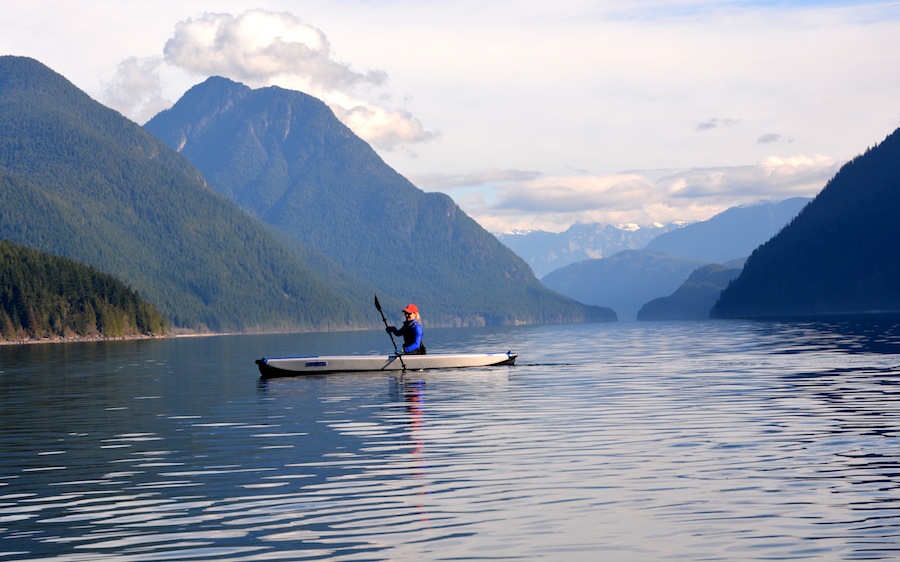 The Razorlite kayaks are by far the fastest IK's out there. Before they came on the market large pontoon sides, wider width and mediocre speed were simply the norm with inflatable kayaks.
However the Razorlite set a new precedent. It is the worlds first IK constructed with all Drop Stitch technology.
Consequently it can be inflated to a much higher air pressure than normal. The Razorlite can be inflated to 10 PSI as opposed to 3-4 PSI like other models.
It is also much leaner than we are used to seeing. It is 28" wide and only 25" wide at the waterline.
That along with the tapered, hard-nose bow and stern has created the only super-performer in the inflatable kayak world.
It is less stable than other IK's and recommended for intermediate and above paddlers.
You can expect the Razorlite to cut through waves cleanly, track straight and reach paddling speeds up to 6 mph.
It is a lot of fun to paddle and very quickly became my solo kayak of choice.
Click here to read our full detailed review on the 393rl Razorlite.
SEA EAGLE RAZORLITE 473RL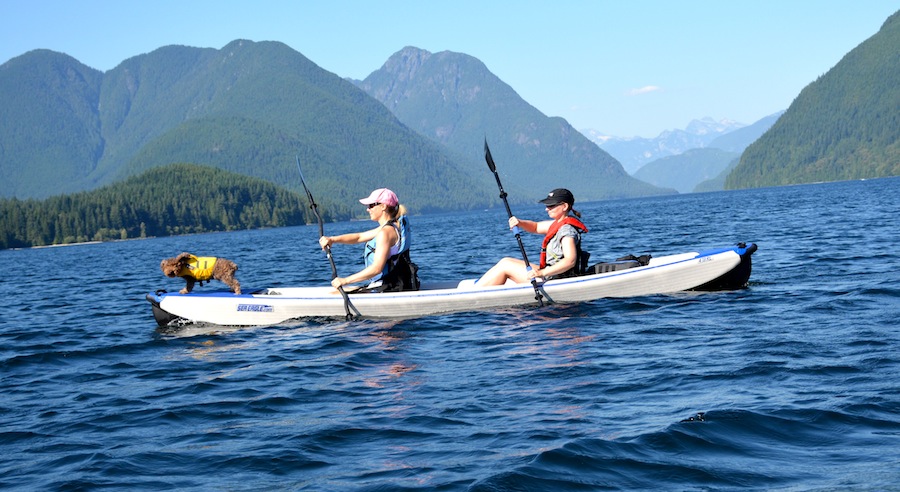 The 473rl is the longer tandem version of the 393rl. It is 15.5' long and just slightly wider at 30" wide.
With two people paddling it moves swiftly and cuts cleanly through the water.
Once the momentum gets going, it glides beautifully.
The seats can be adjusted for solo use if needed but if two people are paddling there is plenty of leg room and space for gear.
I find the 473rl heavier to paddle by myself. It's a long kayak that takes more effort to get moving.
However once you do get that glide going, it becomes easier and feels so nice to paddle.
It is ideal with two people paddling and feels a little more stable than the solo version. With two powering the 473rl you can cover quite a bit of distance in a shorter period of time.
It's an awesome kayak that can hold a ton of weight and still move well.
Click here to read our full detailed review on the Razorlite 473rl.
Other Fast Models
The below kayaks are definitely not as fast as the two Razorlites. However in comparison with many of the other IK's on the market they glide and track well and don't feel sluggish to paddle.
AIRE TRIBUTARY SAWTOOTH TANDEM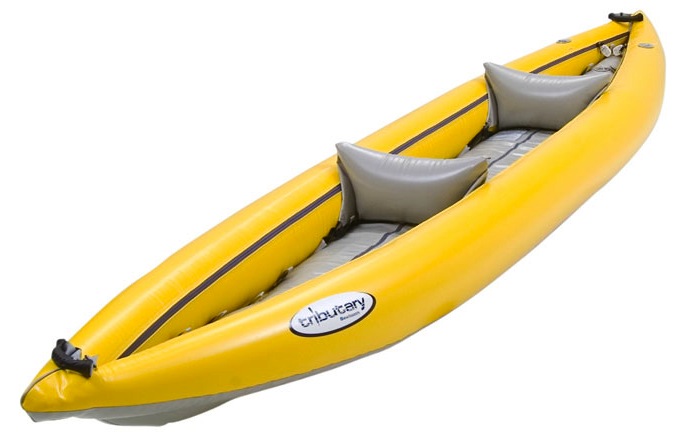 The Sawtooth has been around for a long time and has always been known to be able to pick up good speed.
Overall it tracks straight and glides nicely.
This is a tandem model but the seats can be adjusted for solo use if wanted.
It is quite long at just over 15' so there is lots of space and leg room.
The 32" width and typical pontoon like sides mean it will feel more stable than the above Razorlite models but also be slightly slower when paddling.
The biggest downside to the Sawtooth is the heavy weight of 51 lbs. It feels solid but it takes far more effort to transport to and from the water and to paddle.
Click here to read our full detailed review of the Tributary Sawtooth.
SEA EAGLE FASTTRACK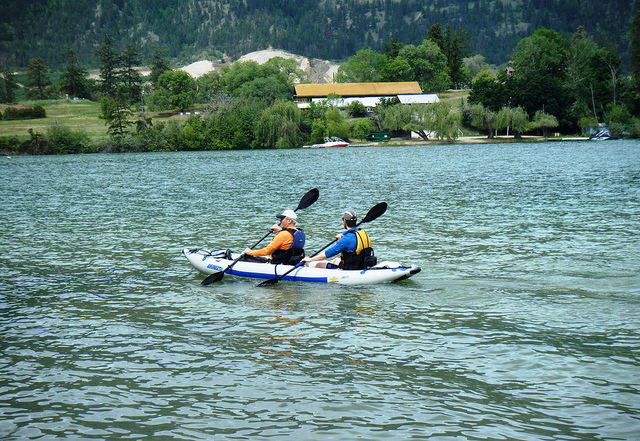 Before I got my Razorlite, the FastTrack was my go to kayak of choice.
It is a tandem that can be converted for solo use and I paddled it solo often.
When the FastTrack first came out I was thrilled as the side chambers were not as bulky as I was used to and it had a slightly more streamlined feel.
It was an improvement and a definite step forward in design and performance for inflatable kayaks.
Since the Razorlite came out a couple of years later, that bar has been set even higher, however the FastTrack is still extremely popular and for good reason.
It is a super comfortable ride and just about anyone could feel very secure and happy paddling the FastTrack.
It is stable but not so wide that it feels sluggish or overly bulky.
It doesn't move as fast as the Razorlite but it can still pick up good speed especially with two people powering it.
It is easy to set up, easy to paddle and easy to get in and out of. It is also good for bringing along kids and dogs.
Although I almost always paddle my Razorlite now on solo paddling trips, I am still a big fan of the FastTrack.
Click here to read our complete review of the SE FastTrack.
INNOVA SUNNY


The Sunny has been around for a very long time and has always been known as a great product.
It has a long and lean feel to it at 12'8" long and only 31" wide.
The design of the Sunny keeps it tracking straight and gliding well.
It used to be known as one of the faster IK's on the market however that is no longer the case.
Newer models and designs have surpassed it however it is still a good product that makes for a great ride.
Only downside to the Sunny is that it is really best suited for flat water as opposed to ocean chop or surf.
It is most ideal for paddling on flat water lakes or on calm ocean bays.
Click here to read our review of the Innova Sunny.
INNOVA HELIOS II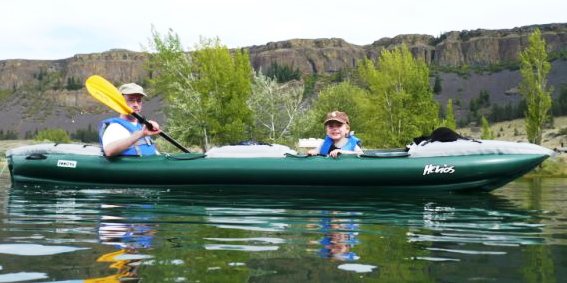 Not as fast as the Sunny but the Innova Helios II is great for ocean padding especially with two people.
It is one of the only models that has the option of a complete rudder system.
The rudder is not necessary for the solo Helios but on the tandem it really helps with tracking and steering.
It moves well, turns easily and handles different conditions with no trouble.
Click here to read our full review of the Innova Helios II.
ADVANCED ELEMENTS ADVANCEDFRAME CONVERTIBLE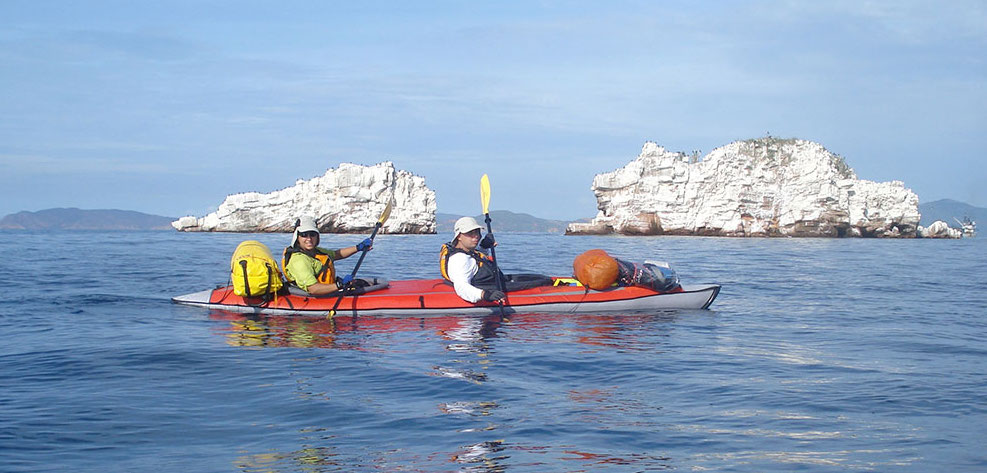 The AE Convertible has long been popular and has a great look to it.
I have never personally been that impressed with the performance of the AE kayaks but there is no denying this Convertible model is a winner.
An upgrade over the years has been the option of a high-pressure floor.
The high-pressure floor is critical if you want better speed and performance.
It helps create a more rigid kayak and really helps with tracking as well.
With the high-pressure floor the Convertible makes this list and although it is not one of my favorites, there is no doubt that it paddles fairly well.
It has a longer setup time and is heavier to carry but you will look great on the water and have a lot of fun paddling it.
Click here to read our full review of the Advanced Elements AdvancedFrame Covertible.
AIRIS SPORT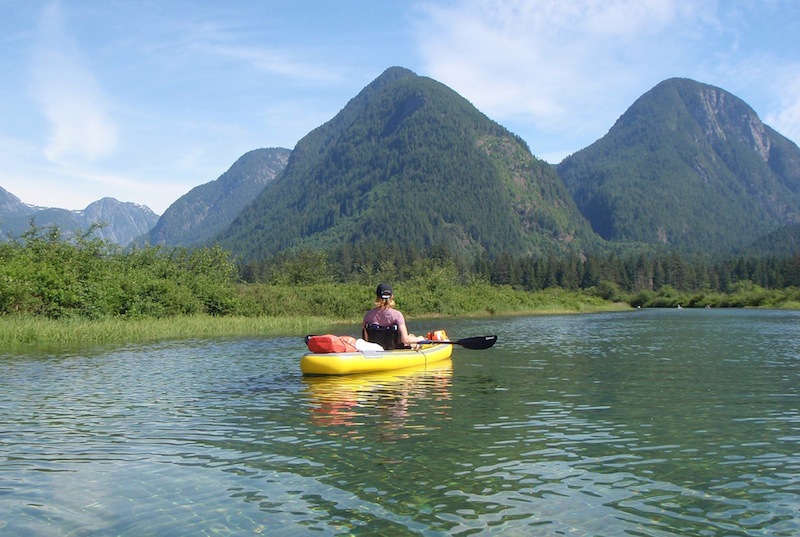 The Airis Sport is an unlikely contender for this list because it is not a long streamlined kayak.
It has a different look to it and more of a sit-on-top feel.
However the speed and performance impressed me and I still own and use the Sport to this day.
It is sporty, it is fun and it is ultra portable. Weighing only 20 lbs., it is easily carried by one person and super responsive in the water.
It takes little effort to paddle and I am always a little surprised how well it zips along.
As long as you don't need a ton of storage space, the Sport is extremely fun to paddle.
Click here to read our detailed Airis Sport review.
Have an inflatable kayak you think should make the list? Please leave us a comment below and let us know!