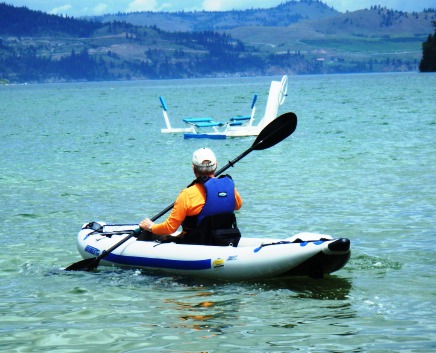 If you are a taller person (approx. 6'2" or taller) looking for an inflatable kayak that offers enough leg room and comfort, there are a few options to choose from.
Many solo models may leave you feeling cramped therefore it would be wise to take a look at the convertible inflatable kayaks. A convertible model is a tandem kayak that can be converted for solo use.
Normally with a convertible kayak the second seat can be removed and you will be able to move the other seat to the middle of the kayak. That way you will have ample leg room and very likely still room left over for gear or cargo.
Convertible Inflatable Kayaks
Some of the popular convertible inflatable kayak models that would work well for taller people are:
Advanced Elements AdvancedFrame Convertible – The AdvancedFrame Convertible is a very popular model that has the option of many great accessories. This model is a little on the heavy side but otherwise is good for lake or ocean kayaking.
Sea Eagle 385 FastTrack – The FastTrack is good for kayaking on lakes, calm ocean or easy rivers and offers ample room for long legs and gear. If you feel you need even more space this model also comes in a longer 3-seat version. The FastTrack is light enough to easily carry and offers great tracking and speed.
Innova Sunny – The Sunny is ideal for flat water kayaking as well as for traveling as it is fairly lightweight. It is known to be one of the faster inflatable kayaks and offers great quality.
Sea Eagle 380X – This inflatable kayak also comes in two other size options so there is one to suit each persons needs. It is quite versatile as it can handle any type of water which is handy although it tends to be a jack of all trades and a master at none.
Advanced Elements StraitEdge 2 – The tandem StraitEdge kayak is suitable for whitewater and for some flat water paddling. The StraitEdge 2 is self-bailing and very stable.
Tributary Strike II – The Strike is also a jack of all trades but a master at none. This inflatable kayak is very stable and comfortable although it does not paddle all that fast.
Solo Inflatable Kayaks
If you prefer just a solo inflatable kayak, the longer models that would also work for taller people are:
Advanced Elements Advanced Frame Expedition – Good for lake or ocean kayaking.
Tributary Sawtooth I – Good for flat water kayaking and offers great speed.
Each of the above models would suit the needs of a person that is over 6 feet tall. The convertible models also tend to work well for a taller person if paddling with a partner.
I have a friend who is 6'4" tall who kayaks very comfortable with me in my Sea Eagle FastTrack. The trick is to have the taller person sit up front where there is far more leg room. There is not as much leg room from the back seat so the shorter person should sit back there.
For a complete list of inflatable kayak sizes please see our inflatable kayak comparison charts.