Certain inflatable kayaks can make excellent fishing boats. They are very comfortable and sometimes you can even have the option of mounting a small motor. The great thing about owning an inflatable fishing kayak is the ability to take it with you anywhere… on road trips, camping trips and traveling by airplane or by vehicle to far away destinations.
They can also be very handy if you are out on a larger boat and want the ability to be able to explore smaller channels where your big boat will not go.
The kayak fishing market is growing as more people realize how convenient and easy it is to fish from a kayak. It is also a very environmentally friendly way to go as well. Some people have expressed concern about using a fishing hook while in an inflatable kayak.
There is no reasons for concern. A good inflatable kayak is super tough. It can handle a fair amount of abuse including dogs claws and hitting debris. Unless you truly take a hook and stab it into the kayak material (which would not be that easy to do) you should have no problems.
The other great thing about inflatables is that even if you were to get a leak you would not sink. Most IK's have 3 separate air chambers… one for each pontoon side and one for the floor. If there were an issue with one air chamber, the other two would safely get you back to shore.
Any of the inflatable kayaks on this site could technically be used for fishing, especially the flat water tandem models that have a bit more room. However below are the solo and tandem models that are best suited for fishing.
Click on the kayak names below to read the full detailed reviews…
Solo:
This is a great solo fishing package for a good price that includes not only a really good quality inflatable kayak but also a high-back swivel seat, a kayak paddle, two stern bags and the foot pump.


---
Tandem:
The Traveler canoe has a really flat bottom which makes it super stable and ideal for fishing. The bench seats are adjustable and sit you up quite high. This inflatable canoe comes with a fantastic 10-year warranty… the quality is top-notch!


This is a very unique inflatable kayak that sort of has more of pontoon sides than an actual kayak frame. Consequently it is super versatile and a perfect fishing platform. It has the option of adding a small motor as well as a high-back swivel chair with built-in rod holders, the option to add on rowing oars or even a sail rig.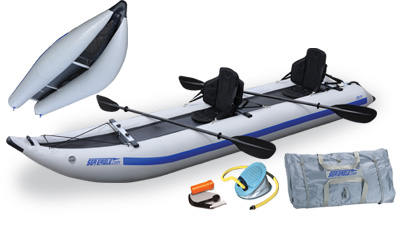 I love the 380 explorer kayak. It is just a great overall inflatable kayak that can be used for just about anything. It is super tough, can hold a lot of weight and paddles well.
The 420X is the larger version of the Sea Eagle explorer kayak. This model is great if you want to bring family or friends out fishing with you or maybe have just a little extra room for tackle gear.

This is the longer version of the solo Fastrack fishing package. It offers a lot more room. With this model you can bring along a friend or store a lot of extra gear for fishing. It really gives you a lot for your money.


Want to see other types of inflatable fishing boats? Check out our comprehensive Inflatable Boat Reviews.