With so many different inflatable kayak models to choose from it can be difficult to narrow down your search.
I get a lot of questions from people who are basically looking for the best 'all rounder' kayak.
This does not necessarily mean the fastest or the best model out there. Instead they are looking for a good quality kayak that will excel in multiple applications such as on lakes, rivers and ocean bays as well as possibly used for fishing.
Most kayaks are designed to perform best in one application. However there are a few models that I find are very versatile and work great for those who want to use their kayak in a little of every type of water.
#1 Best All Rounder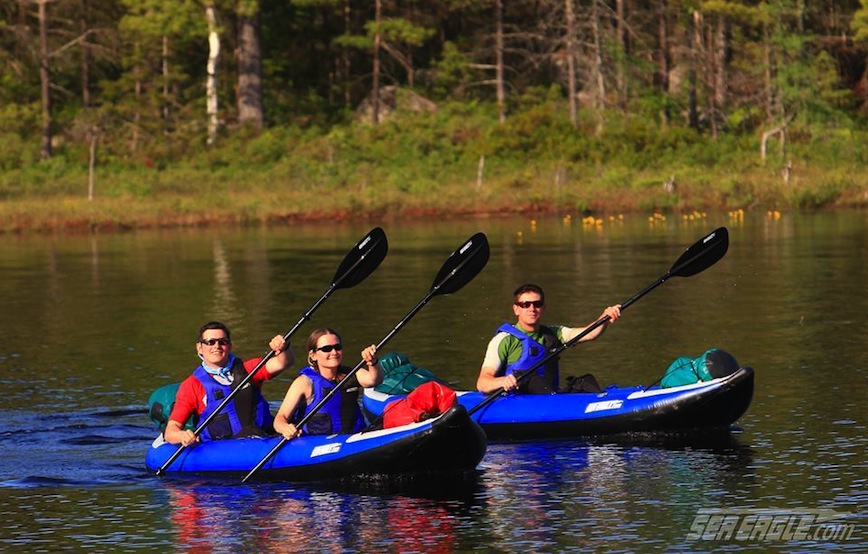 The number one most versatile inflatable kayak I have tried is the Sea Eagle Explorer kayak…. It has three different sized options to choose from.
The solo 300X model and the tandem 380X model are both excellent options.
Their longer 420X could also be used in all types of water but it is getting quite long to maneuver really well in whitewater. It can handle the rapids, but it will take a bit more work to control.
This is not necessarily the fastest kayak in the water but it paddles well and performs great on flat water, ocean bays and can handle up to class IV rapids.
The Sea Eagle Explorer kayaks have been around for a long time and they have definitely been improved upon over the years.
The latest model is excellent and you can expect it to track well, be very comfortable, keep you dry in rough water as the pontoon sides are a little bigger and last a very long time.
The quality is excellent and true to Sea Eagle form, they give you a lot in their package options for an excellent price.
If I had to choose one kayak to be my 'all rounder' this would be it. More specifically I would choose the 380X model as it can be used for solo or tandem use so it is even more versatile.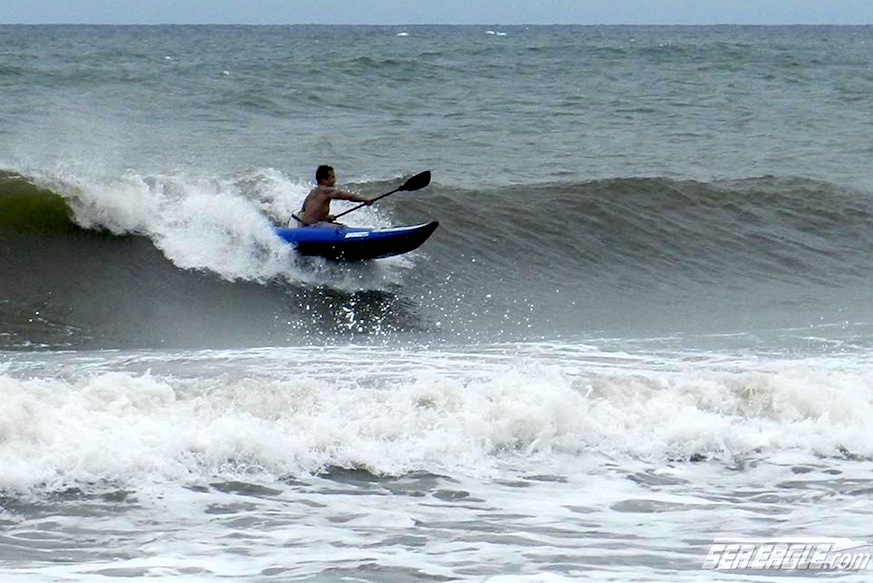 Other Options
Now if the SE Explorer kayaks don't suit you, there are other options to consider.
The Sea Eagle Sport Kayaks
The SE Sport kayaks are a much cheaper version of the Explorer kayaks in my opinion.
Still very well made but they are more well suited to the beginner paddler.
Although it will not perform as well as the Explorer kayaks, it is still very versatile and you'll get a decent performance on lakes, ocean bays and rivers.
Best of all the price tag is extremely affordable.
Aire Super Lynx
The Super Lynx is a very cool kayak that is known to be extremely well made.
It paddles well on flat water and will do great on ocean bays.
It can take on some river rapids but keep in mind that similar to the SE 420X, this kayak is a bit longer and will take more effort to control and maneuver.
So although it is a good all rounder and is of very high quality, it would not be the absolute most versatile in my opinion.
Advanced Elements AdvancedFrame Sport
This is not one of my favorite kayaks as I don't find the performance to be all that outstanding but it is quite versatile.
It paddles well on flat water, works great on ocean bays and can handle some mild rapids… but nothing too crazy.
Priced well, this kayak has a really nice look to it, a wide-open cockpit and a cover that feels more like a traditional hard-shell kayak.
It's functional and fun to paddle but keep in mind this is a cheaper model and doesn't particularly excel when compared to other kayaks I have tried.
Zoik AlterEgo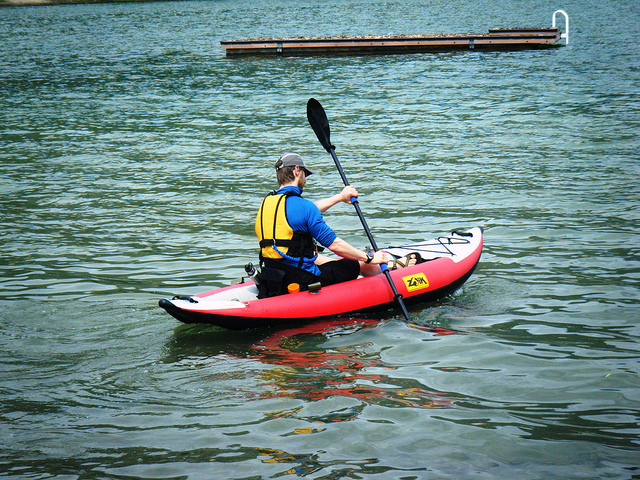 The AlterEgo is a fun little kayak. It zips along pretty good and is fairly versatile.
Good for lakes, ocean bays and mild rivers, it keeps you sitting high and dry and is easy to maneuver.
The tracking and performance is not as good as a higher priced model but for what it's worth it's great for recreational use.
Tributary Tomcat Solo or Tandem
Stable, solid and versatile, the Tributary Tomcat is quite functional. It has higher pontoon sides similar to the Explorer kayaks and consequently keeps you dryer in rougher conditions.
It's doesn't seem to be as popular as some of the other models but it has been around for a long time and has a good reputation.
The tracking is decent but not fantastic. It is comfortable, well made and suitable for lakes, ocean bays or rivers.
Click here to see our inflatable kayak reviews for more information on these kayaks.