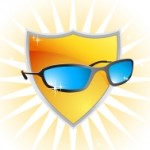 Being out on a kayak in the open water with the direct sun not only shining on you but reflecting off the water can cause some serious sunburns (I've had my share) or cause you to get sick from sun stroke (I've had that too).
Often because of the cool breeze and the water splashing aboard it is easy not to realize the effect that the sun is having on you.
I was paddling in Kauai one time in a sit-on-top kayak and my legs got so burned I had to sit in bed with ice bags on them for a couple of days before I could even move.  I was so mad at myself. I had put sunscreen on everywhere except my legs. 
Bad mistake! I could have easily avoided this of course with a little sunscreen and/or with some UV protective clothing. UV protective clothing is great to throw on to protect yourself from direct sun. With the amount of skin cancer cases booming, UV protective clothing sales have gone through the roof.
Fashionable yet Functional – SPF Clothing can Save the Day

There is a huge selection of great UV protective clothing to choose from… not just wet suits and bathing suits. Great tops, shorts, pants, shirts, you name it. All of which will offer you great sun protection. There are lots to choose from for every person regardless of age.
My favorite place to shop for sun protective clothing is Backcountry
. They are a leader in the SPF clothing industry and they have a fantastic variety of fashionable and functional UV protective clothing for men, women, and children as well as lots of different UPF rated accessories.
Backcountry is known for having excellent brand name quality clothing and is a step ahead of the rest as far as their huge selection of different SPF clothing. With great selection, great prices, popular brand names and often good clearance sales you are sure to find that right piece of clothing to protect you from the strong rays of the sun.
Even if you are not sure if you will need it, it is nice to have at least one UV protective long sleeved shirt with you that you can put on if necessary or even drape across your legs. Yes I certainly could have used one of those back in Kauai.
To view a complete selection of SPF clothing and accessories please visit Backcountry .