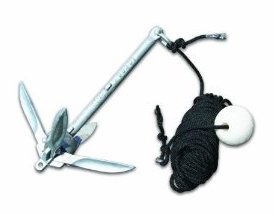 It is not that easy to find a good inflatable kayak and inflatable canoe anchor system that works well and is simple to pack away.
The Advanced Elements Canoe and Kayak Anchor System
is probably one of the best ones on the market.
This anchor system is ideal for those who like to fish as well as for any of us who like to take a break from paddling, have lunch and possibly a nap without floating away.
Designed by an inflatable kayak company it has functionality and portability in mind.  It is secure, functional and easy to bring along while traveling.
This inflatable kayak galvanized grapple anchor weighs only 3 lbs. and has some great features.
Kayak and Canoe Anchor System Features
a sliding collar that keeps the flukes drawn up tight against shank when stowed
the sliding collar drops to lock the flukes open when deployed
easy removal from water – simply pull and stow
portable fold up for easy storage
60 ft. of line
carabineer
line float
mesh travel bag for both the anchor and the line

The Advanced Elements kayak and canoe anchor system will work for all inflatable kayaks and inflatable canoes as well as hard-shell kayaks and canoes.
If you are looking for a good anchor system for your paddling adventures this is the one to get.
It is affordable, portable and most importantly works well. It will anchor to most bottoms including sand and rock.
Best Price
As usual the best price I have found is on Amazon.com
. At the time of this writing it is selling for $29.99.
What Others Are Saying
There are some excellent reviews on Amazon from people who have purchased this product. Below are a few of the comments…
Good basic kayak anchor – Easy to use, works well, and appears sturdy. All you can ask for in an anchor.

Everything as promised – I bought this as a gift for my son and he loved it. He said for the money it was a great buy and did what anchors are supposed to do, LOL.

VERY well-designed Anchor – Used this anchor new out of the box this past weekend. Very well-designed anchor: compact, locks open for use, locks closed for storage and not punching holes / scratching the interior of my new canoe. Worked very well in shallow muck / weed bottomed lake, which surprised me given the anchor is not that heavy. All in the design I guess… Held canoe in place when a monster Northern Pike broadsided the small 25 3/4″ Northern Pike I hooked. What a fight with 16 ft canoe getting pulled around in circles! Now if only we had had a landing net that was as well-designed as this anchor.
For more information visit Amazon.com – Advanced Elements Canoe and Kayak Anchor System
.