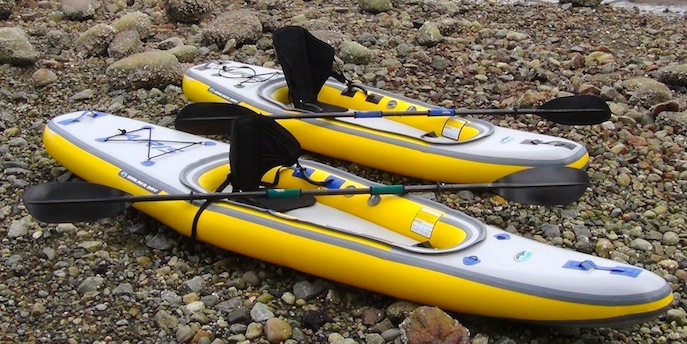 Walker Bay has been a leader in recreational water products since 1997 and they used to have a very good line of inflatable kayaks called Airis.
The Airis kayaks went off the market for awhile and were redesigned and improved upon in late 2012.
The new models are now available and I am quite excited about them.
I was lucky enough to get to test and review all three models and I was very impressed with several aspects of these kayaks.
Quality
For one the quality is top notch. They are made using AirWeb Patented high- pressure construction ,which is a process unique to Walker Bay.
They are formed of heavy duty, seven layer polymer-coated fabric that is joined by thousands of drop-stitch fibers.
The result is a very rigid, very rugged and tough product. The material is tear and abrasion resistant so you can be confident that these kayaks can handle a fair amount of abuse.
The material is also UV treated to protect from exposure to the elemensts.
The quality is obvious as soon as you inflate one of the Airis kayaks. They are solid, the floor is extremely rigid which is what you want and the kayak in general just feels like quality.
Performance
It was fun being able to try out all three models as I really got the chance to compare the performance between them.
All three were extremely stable and solid enough that I could even stand up paddle in them which I tried out on each model successfully.
The Airis Play – The Play is the smallest of the group and fits its name as it is a very fun play boat.
Even though it is small there is quite a bit of leg room and comfort was not an issue.
The size and light weight (it only weighs 18 lbs.) makes it very easy to paddle and maneuver.
Turning and doing tricks is actually a lot of fun as it is so responsive and the large rear skeg greatly helps with the tracking.
The Play paddles nicely on a lake as well as in ocean bays but also excels in rivers and surf.
This is not a touring kayak and there is not a large amount of room for gear so it is best suited for recreational day use.
It is ideal for backpacking, airplane travel and those who want a high quality inflatable kayak that is extremely light weight and easy to carry.
Click here for our full review of the Airis Play.
The Airis Sport – The Sport was my favorite as it performed so nicely.
The Sport is longer than the Play and slightly more streamlined. It only weighs an extra couple of pounds and can still be easily carried in the backpack/carry bag that comes with it.
I found the Sport to track beautifully. I was totally impressed with its performance. It paddled straight, glided nicely and seemed to get some good speed.
Overall I would say this one was my favorite as it suited my paddling needs the best.
I most often paddle on lakes and ocean bays and the Sport excels on both.
You could also easily take this kayak traveling with you. It is comfortable and easy and also offers slightly more room for storing gear.
Click here for our full review of the Airis Sport.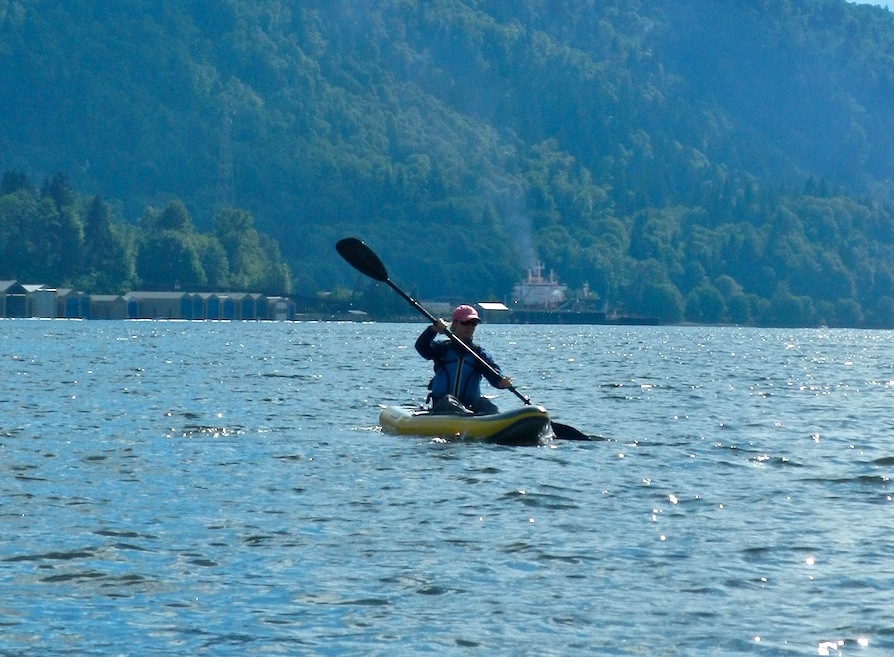 The Airis Tandem
The Tandem is the two-person model and is actually quite versatile. The seats can be moved and adjusted for solo use if needed.
The extra length and width makes it a good choice for those who are slightly larger or who want the extra space for gear or a dog or child.
I brought my dog out kayaking with me in the Sport but he had to sit between my legs. With the Tandem there would be much more room for both of you.
The fact that this Tandem model is still quite light makes it an ideal 2-person option for traveling.
It tracked well and with two people paddling really glided nicely.
Click here for our full review of the Airis Tandem.
Backpack
The kayaks are great but I have to admit that one of the things I really love about the Airis kayaks is the deluxe backpack that comes with them.
The backpack has padded shoulder straps for comfort and enough pockets and room to carry the kayak, the pump, the seat, the repair kit and the paddle.
You could probably even fit a few extra accessories in there too.
It is an awesome bag and in my opinion really makes it convenient to carry and store.
The fact that these kayaks are so lightweight means you can actually carry them on your back if you choose to.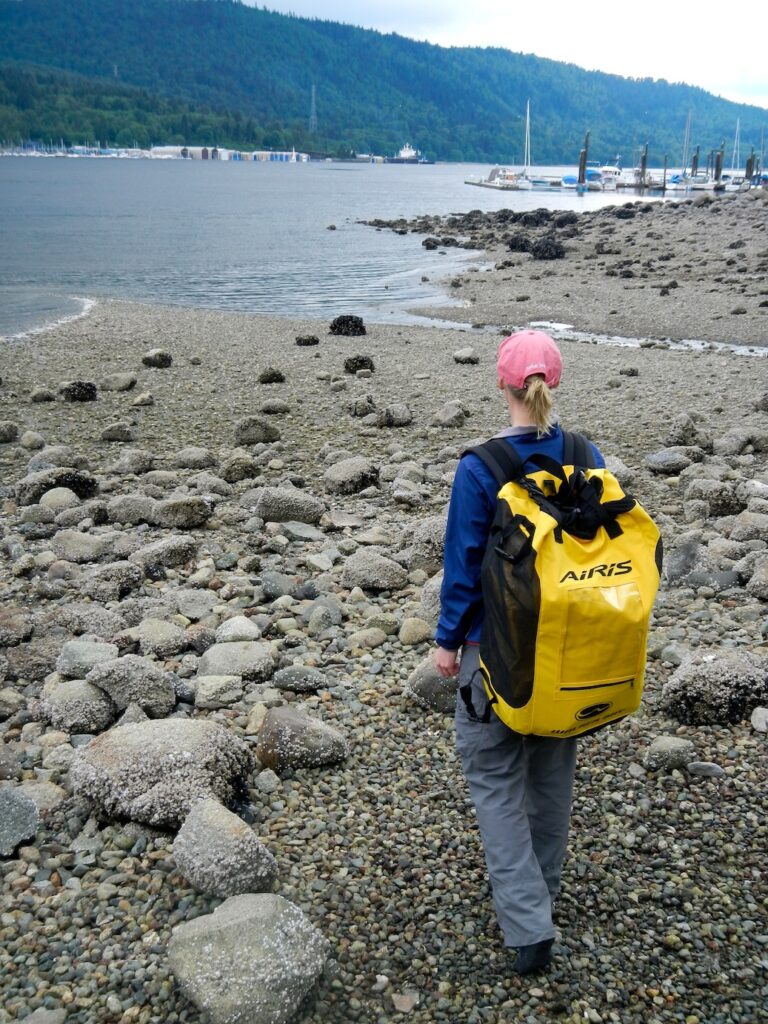 Paddling
The Airis kayaks are interesting because you sit up a little higher in them. It's a different feel than I am used to but I found I got used to it very fast.
Sitting up higher has its advantages.
It is easy to get in and out of
Your arms do not rub against the pontoon sides when paddling as can sometimes happen with inflatables
It rolls up into a smaller and more compact package – the pontoon sides are not as large so there is less material to roll up
People of all ages including children will find this type of kayak very easy to paddle
Overall I am very impressed. There are very few negatives and enough versatility in the three models that there will be one to suit each person's needs.
The quality is excellent, the performance is great and they are ultra convenient. Plus because they are manufactured in North America the price is fantastic.
They are priced well below other inflatable kayaks of similar quality.
Click here to compare the specs of all three Airis kayaks.