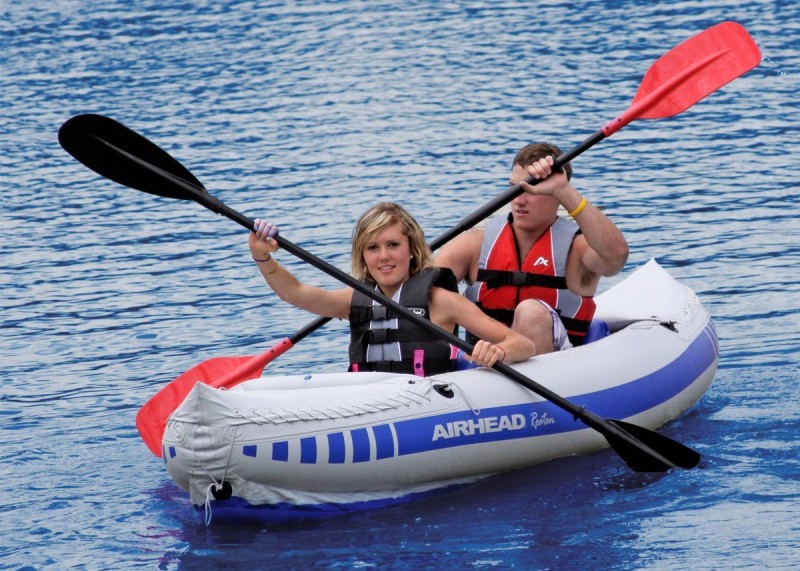 Best Uses: Lakes, slow rivers, recreation, travel
Brand: Airhead by Kwik Tek
Number of Paddlers: 2
Stats: Length 10' 3", Weight 25 lbs,
Accessories Included: 2 movable inflatable seats, instruction manual, 90 day warranty
Kayak Material: Semi-rigid heavy gauge PVC
Pros: Compact, portable, lightweight and easy to lift, stable, quick to inflate, removable seats, very affordable, front and back spray covers
Cons: Tracking not great, large pontoon sides caused some knuckle rubbing, does not come with carry bag (but it rolls up so small it is very easy to carry and you can store it in the plastic or the box it comes in)
Available At: Click here for the Airhead Roatan inflatable kayak at Amazon.com.
More Detailed Info
The Airhead Roatan is by far one of the most affordable inflatable kayak options on the market. With the low price you have to keep in mind that you are not going to get the same quality of construction and great performance that you get in higher priced models.
However what the Roatan does give you is a very affordable and fun way to get out and paddle around on flat water no matter where you are in the world.
The Roatan is very lightweight for a 2 person inflatable kayak and rolls up into a small little package that is very easy for one person to carry. Consequently it would be simple to travel with this kayak, even by airplane.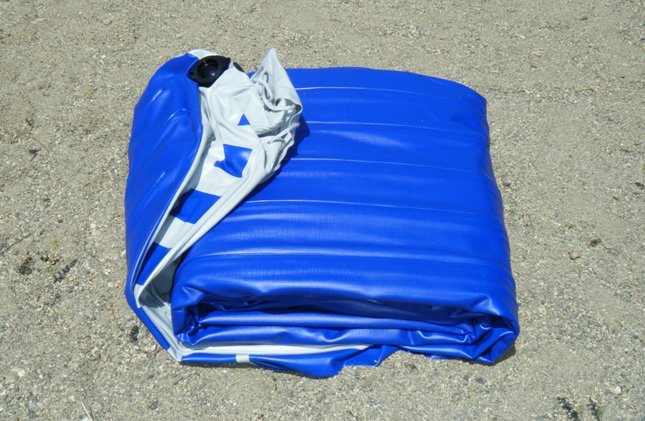 It is also ideal for kids, easy to paddle and won't break the bank to get them outside enjoying some fun time on the water.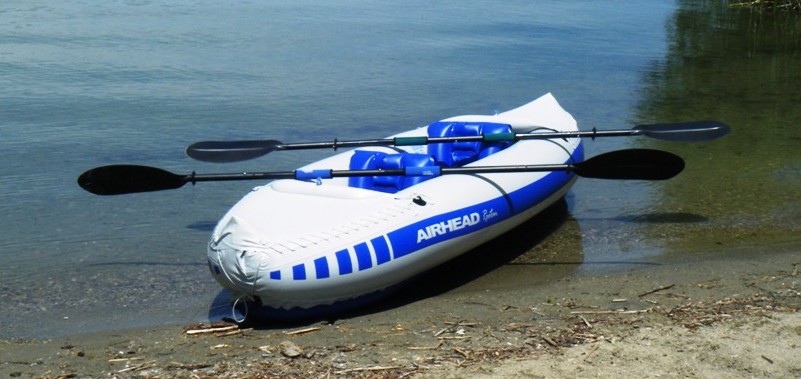 Pontoon Sides
The Airhead Roatan has fairly large pontoon sides, each with its own inflation valve. Sitting inside the Roatan with the large pontoon sides makes you feel very secure. Tucked in between those pontoons there is no chance of tipping or falling out.
However I did notice that my hands and the paddle rubbed the sides while paddling. I had to focus on reaching my arms out a little more in order not to rub against the pontoon sides.
This can be fairly common with some inflatable kayaks but I did find it especially prominent with this model. If you are not paddling any great distance then this will not be an issue for you.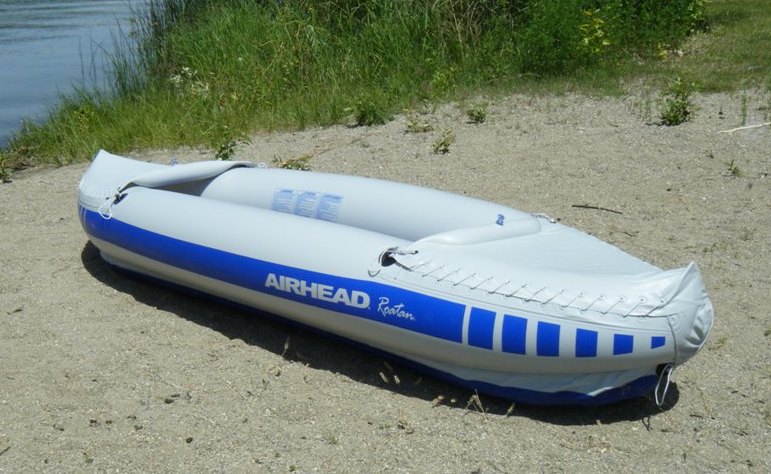 Floor
The floor of the Roatan has a separate inflation valve. Typically with inflatable kayaks the more rigid the floor the better performance you will get.
I would not say that the Roatan floor was super rigid but I would not expect it to be in this recreational model. However the floor was extremely comfortable and it would be no problem for children or dogs to sit on it without the seats.
Seats
This kayak comes with two movable inflatable seats. I found the seats to be quite comfortable and the back support was better than expected.
The seats can be placed anywhere within the kayak and the pontoon sides hold them in place. The fact that they are movable means you can easily paddle the Roatan solo or tandem and move them around to suit your needs.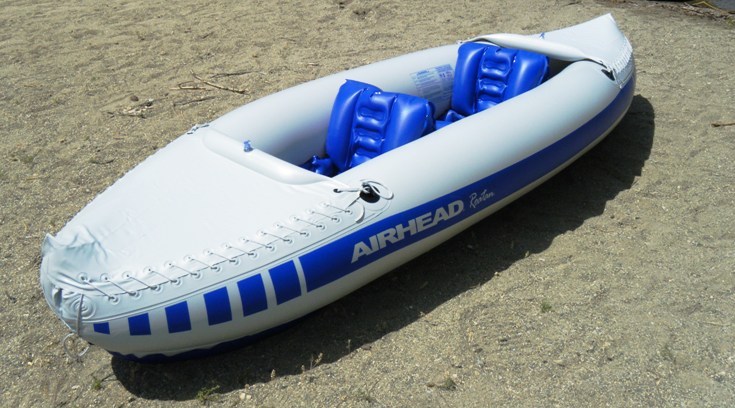 Storage Space
The the amount of storage space underneath the front and back spray covers is adequate for day trips. You can easily store a couple of dry bags with extra clothes, food, and a few necessities.
Performance
Paddling the Airhead Roatan is fun but I would not want to take it on a long distance trip. This model works best for easy paddling, not high performance.
It is very easy to maneuver, even when paddled solo and is very responsive. It is best suited for kayaking on lakes or calm rivers.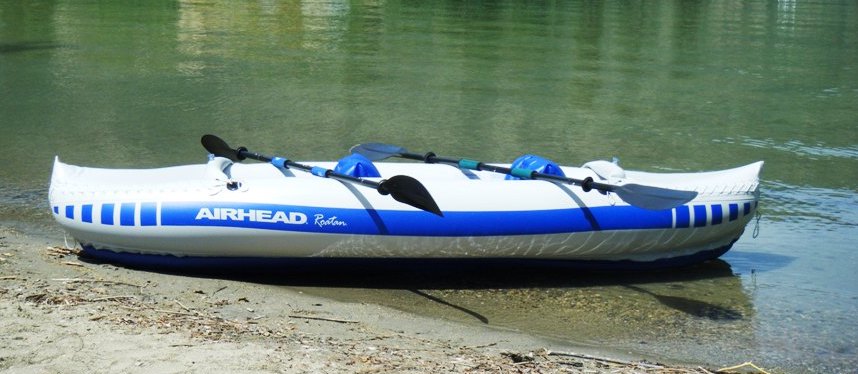 Video
Final Thoughts
The Airhead Roatan gives you an affordable way to get the family out on the water. It is very compact and easy to travel with as well as store away.
This model would be fun for adults and kids who want to enjoy some easy paddling fun on flat water while at home or on vacation.
Where To Buy
Click Here For The Best Deal On The Airhead Roatan Inflatable Kayak At Amazon.com.
Did You Know?
By clicking on the above seller links you can help keep InflatableKayakWorld.com growing. When you make a purchase after clicking on our links, the retailer will contribute a portion of the sale to help support this site. It won't cost you anything extra and it's a simple way to help us fund our kayak and gear reviews. Thanks!