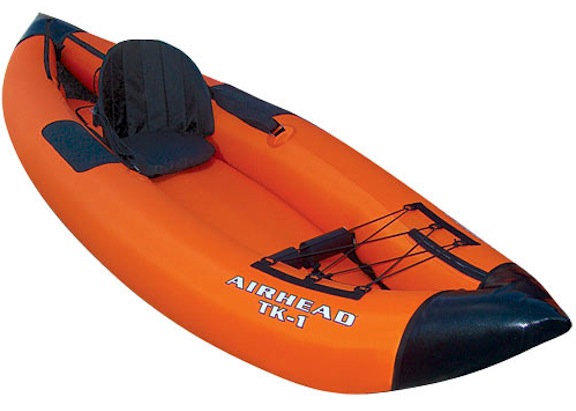 Best Uses: Lakes, mild whitewater
Brand: Airhead by Kwik Tek
Number of Paddlers: 1
Stats: Length 9' 9", Weight 27 lbs, Load Capacity 300 lbs
Accessories Included: Inflatable seat with adjustable backrest and mesh back storage pocket, footrest, 4 attached bottom fins, instruction manual, 90 day warranty
Kayak Material: 840-denier nylon with UV and water-resistant coatings
Pros: Stable, portable, lightweight, quick to inflate, great manoeuvrability, compact, easy entry and exit, decent storage space and stretched netting in the bow, neoprene elbow guards, 6 D-rings for securing gear, grab handles make it very easy for one person to lift, drain plug to rid excess water from kayak, very affordable
Cons: Does not come with carry/storage bag (but does have good straps which make it easy to carry) tracking not the greatest, seat was a bit wobbly
Available At: Amazon.com – Airhead Montana inflatable kayak
More In-Depth Info
The Airhead Montana is a lightweight and portable 1 person inflatable kayak that is best suited for flat water to mild whitewater kayaking.
The Montana has some nice features which make it appealing for recreational paddling.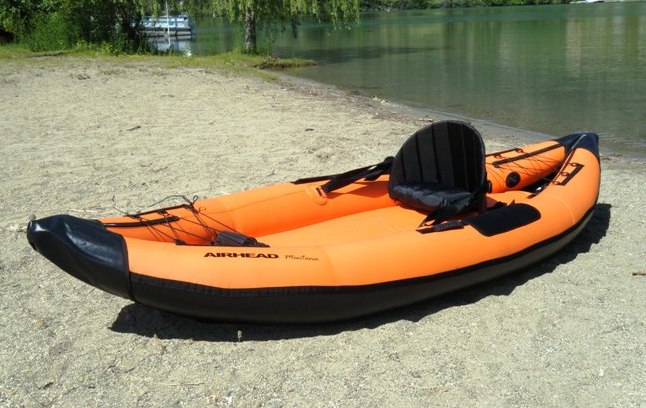 Grab Handles
Besides the front and back, this kayak has grab handles on both of the pontoon sides.
I wish more solo inflatable kayaks would have grab handles on the sides as this makes it very easy for one person to lift and carry when inflated.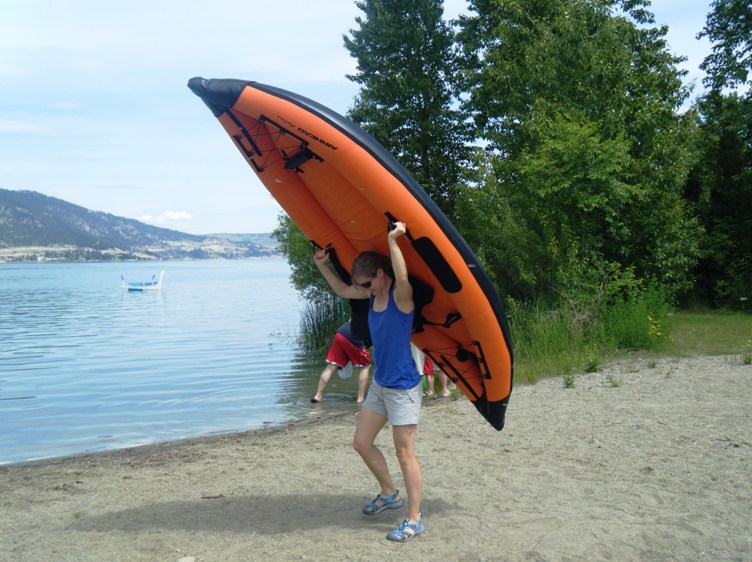 Neoprene Elbow Guards
I have only ever seen a couple other inflatable kayaks with these neoprene elbow guards on the sides of the kayak and I think they are a really nice touch.
They feel soft and comfortable if your elbows, arms or hands are rubbing against them or resting on them.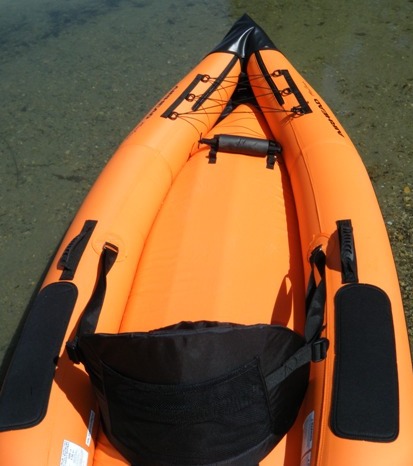 Attached Footrest
The Montana has a small footrest attached at the front of the kayak. There are three separate loops that the footrest can attach to so you can move it depending on your height.
I found that the footrest in the first loop was best for me (I am 5'7").
Storage
This is not a big kayak and consequently you will not find a ton of storage space. There is room for a dry bag up front under the stretched netting and there are 6 D-rings for securing gear within the kayak.
You could also store lighter gear on top of the stretched net in the bow and tie it down.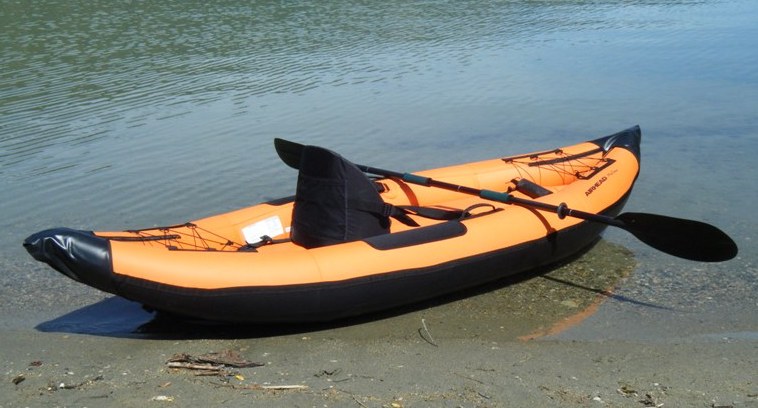 Seat
The bottom of the seat is inflatable and the back is easily adjustable. I found the seat to be comfortable but a bit wobbly. I had to do a fair amount of adjusting initially to get it so that it felt right.
I discovered that by not inflating the bottom of the seat to full capacity I did not wobble around as much so that might be something to try if you are having issues with it.
Design
The Montana is a brilliant orange color which I think looks fantastic in the water. It is always nice to be very visible when kayaking so other boats can see you and the orange color of the Montana does the trick.
Performance
The Montana is not a long inflatable kayak and it is fairly wide. This makes it extremely stable and easy to paddle as well as easily maneuverable.
It is very responsive and paddles decently in flat water as well as in some smaller choppy waves.
I found the tracking to be not so great and it was clear that although the Montana was easy to paddle, it was not going to get me to my destination fast.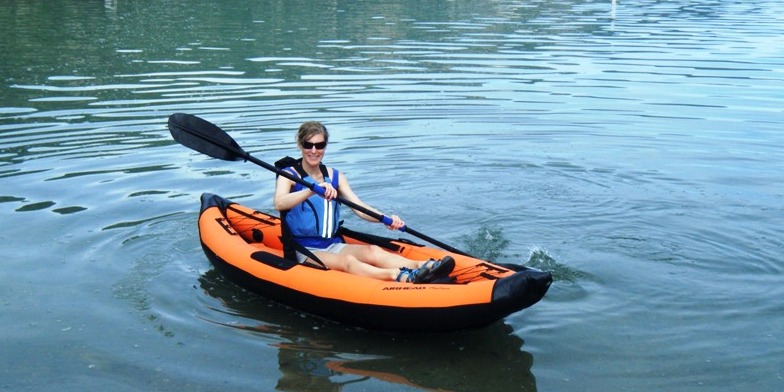 Setup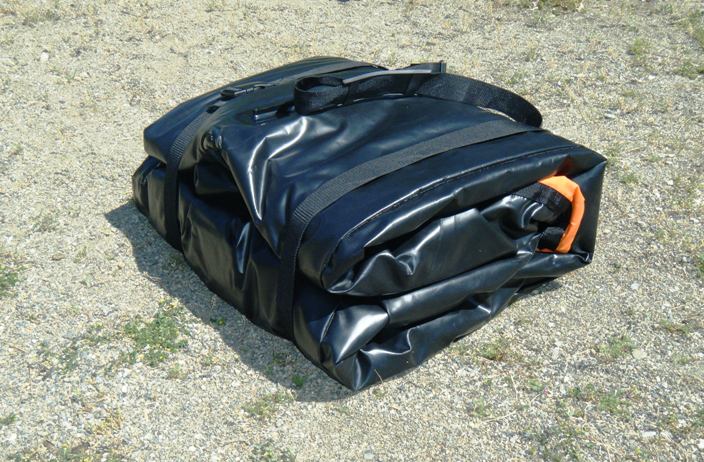 The setup process takes me less than ten minutes by myself.  I used the foot pump that comes with this kayak and inflated the floor valve then the two side valves.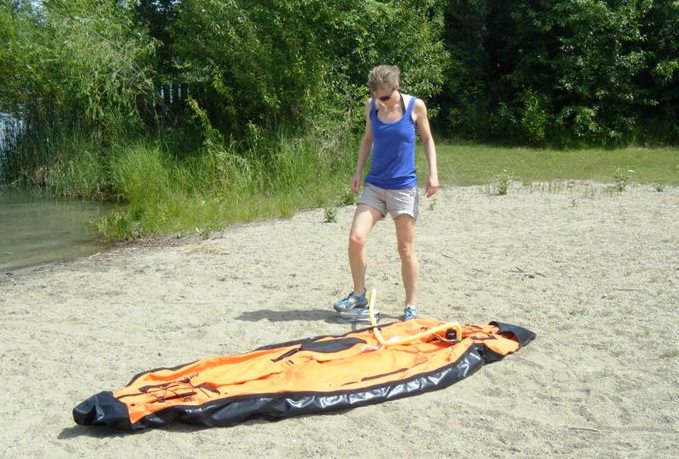 Once it gets too hard to keep pumping, the kayak is done.  The bottom of the seat is inflatable so you will need to inflate that next.
It's an easy process that anyone could do by themselves.  After paddling simply deflate each valve, dry the kayak off and roll it up.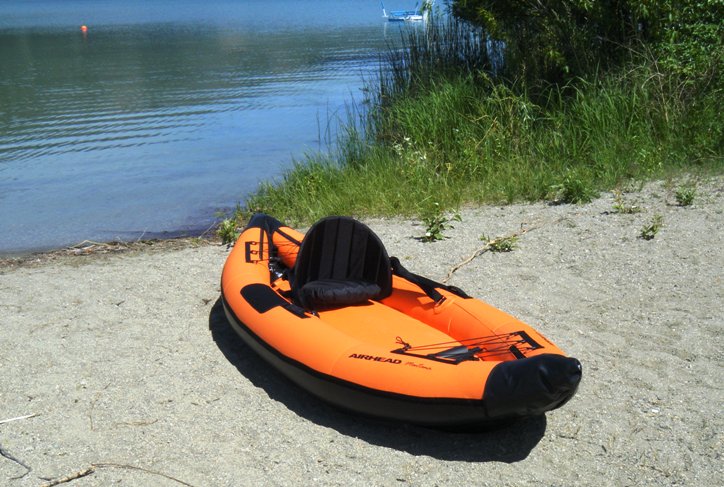 Our Video
Final Thoughts
The Montana is light weight and very portable and would work well for those who like to camp, travel and paddle in flat water to mild whitewater. It is very stable and responsive to quick turns.
As long as you don't mind the lack of great tracking and speed this inflatable kayak will provide many hours, days and years of fun on the water for a very affordable price.
The Airhead Montana also comes in a slightly larger tandem version, the Airhead Montana Tandem.
Where To Buy
Amazon.com consistently has the lowest price for this kayak.
Click Here For The Best Deal On The Airhead Montana Inflatable Kayak At Amazon.com
Did You Know?
By clicking on the above seller links you can help keep InflatableKayakWorld.com growing. When you make a purchase after clicking on our links, the retailer will contribute a portion of the sale to help support this site. It won't cost you anything extra and it's a simple way to help us fund our kayak and gear reviews. Thanks!