If you are looking for a whitewater inflatable kayak you have likely come across two major brand names… Aire Kayaks and NRS kayaks.
At first glance it may be a little difficult to see too many differences between these two manufacturers. Both are extremely popular, both have been around for quite some time – however both are not created equal.
A little bit about Aire Kayaks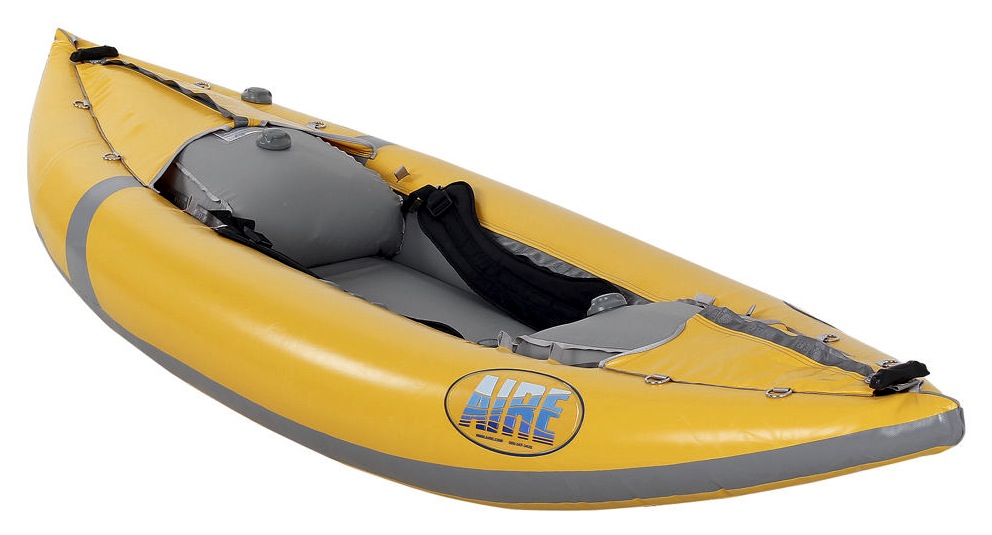 Aire Kayaks are known to be the leaders in the inflatable kayak world. They are American made and most Aire kayaks come with a phenomenal 10 year warranty.
The construction of their inflatable kayaks is just that much better and it will be reflected in the performance. Consequently many kayaking enthusiasts who use an inflatable kayak will swear by the Aire kayaks.
A little bit about NRS Kayaks

NRS does not offer the same extreme quality as the Aire kayaks but they are a force to be reckoned with none-the-less.
They have been a pioneer in the inflatable kayak world and are known for producing affordable yet good quality inflatable kayaks.
They are lower in price as well as usually have a  lower warranty. However they do offer good kayaks for everyday use that more people can afford.
Which Brand to Go With
From my experience, even though the Aire kayaks cost more, I still see them as more popular.
If you are looking and trying to decide whether to go with an Aire inflatable kayak or a NRS inflatable kayak I really think it is going to come down to how much you are willing to spend.
If you have the money, you are likely going to want to choose the Aire kayak as there is no question that it is a better inflatable kayak.It will last you longer, it will likely come with a better warranty and it will probably give an all around better performance. The chances of being disappointed are slim to none.
However if you are looking to spend a little less, I would not hesitate in recommending the NRS kayaks. Many people have been more than satisfied with them.One thing about NRS is that the company in general is extremely passionate about kayaking.

They are continually improving their models and they even offer a couple of inflatable kayaks that come with a great 10 year warranty. They are competing with Aire and consequently are always striving to do better.
I think as far as making a choice, it is going to come down to how often you plan on using the kayak, as well as how much you are willing to spend.
My own preference would be to go for the Aire Kayak as I think it is a better product that offers a lot more versatility.
Perhaps you have some thoughts of your own on these two brands? Please feel free to share them in the comments section below.
For more detailed information on the individual inflatable kayaks click here for NRS kayak reviews and click here for Aire kayak reviews.