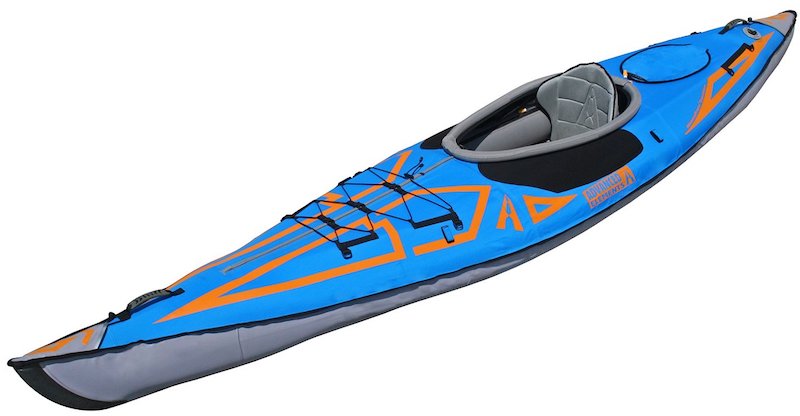 Best Uses: Flat water, Lakes, Camping, Ocean, Slow rivers
Brand: Advanced Elements
Available At:
Number of Paddlers: 1
Stats: Length 13', Width 32", Weight 42 lbs, Load Capacity 450 lbs
Accessories Included: Carrying duffel bag 31" x 16" x 10", folding seat, repair kit, owner's manual
Kayak Material: PVC Tarpaulin with 1000 denier polyester outer fabric, heavy-duty 30-gauge PVC main chamber, high density polyurethane-coated polyester inner cover
Pros: Easy setup, stable, tracks well, comfortable, easy entry and exit
Cons: Needs to be dried out thoroughly before storing, heavy (for a 1-person kayak), can be slow, trouble with spray skirt staying on
More In-Depth Info
The Advanced Elements AdvancedFrame Expedition is best for the recreational paddler.
It is not as speedy as some of its higher priced competitors but it will get you where you want to go in comfort, style and at a great affordable price.
This is another closed-deck model that I think looks fantastic. It reminds me more of the look of a hard shell kayak and it has some great accessories to go with it.
Performance & Comfort
It is a lot of fun to paddle because it is very maneuverable, meaning it turns easily and is responsive to your steering.
There is a decent tracking fin that greatly helps to keep the Expedition paddling in a straight line.
It is not super fast, but overall it paddle fairly well.
As with many of the Advanced Elements kayaks this model has built-in aluminum ribs that help to create a rigid bow and stern. This also helps improve the tracking.
The cockpit is roomy enough to be comfortable yet snug to the side for a secure fit even when paddling hard.
There is lots of leg room and this model even has foot braces for paddling efficiency. The adjustable lumbar seat is fairly basic on this kayak but comfortable enough for day trips.
If you plan on doing longer excursions you may want to add a little extra padding or upgrade the seat.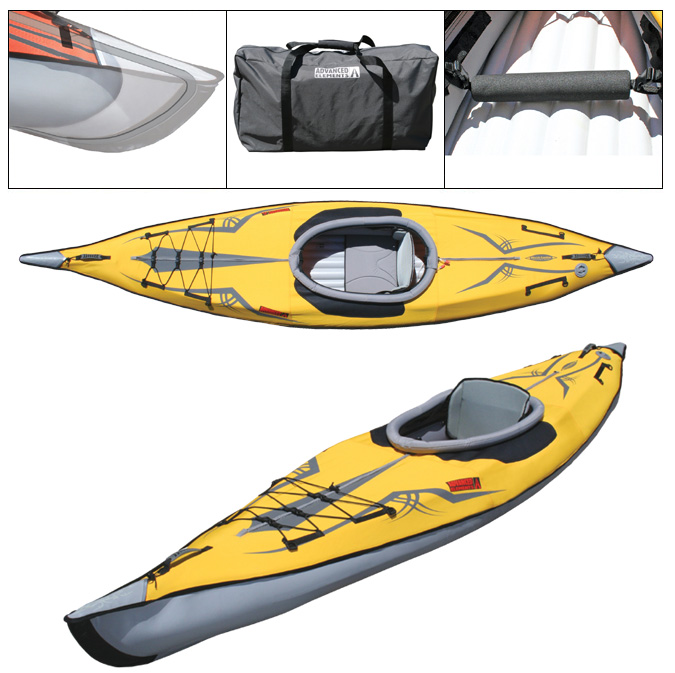 Features & Options
One thing I like about the Expedition is that the front deck can unzip so that you can open it up and put your legs out in the sun.
That is a very cool feature that I have not seen in other closed-deck models.
You have the option of closing off the front deck when you need protection from the elements. There is an optional spray skirt that secures you in nicely and totally protects you from rough water.
The storage room is decent even if you plan on doing some extended trips.
You can fit a good amount of gear inside the kayak but there is also bungee tie down cords on the front of the kayak that can be used to secure extra gear or things you want to be within a hands-reach of.
It deflates and rolls into a compact package and can be transported anywhere in the included carry bag.
The Down Side
There are two things to be aware of with this model.
1. It is heavy considering it is a solo kayak. At 42 pounds, the Expedition is definitely one of the heavier solo models.
This will only be an issue for you if you need to be able to carry it alone to the water and feel that 42 pounds might be a little much.
You can also get one of those kayak carts with wheels to help transport it.
2. This kayak sits low in the water and you will definitely get water splashing inside.
Although this does give a more authentic 'kayak feel' when paddling, it would be wise to bring a bilge pump with you if you will be out on the water for any length of time or will be kayaking in rough conditions.
Or better yet, get the optional spray skirt so you are totally protected.
Final Thoughts
All in all the Advanced Frame Expedition inflatable kayak is very versatile and most people seem to agree that although not perfect, it is well worth the money.
it was designed to take you on an adventure. It is not a top of the line model, but it will hold up well and easily get you to your destination.
It is durable and comfortable and will provide for many amazing outdoor excursions. Just unfold, inflate and hit the water!
Where To Buy
The AdvancedFrame Expedition is available at several different outlets.
Click the links below to see the current prices for this inflatable kayak at each online store.
Did You Know?
By clicking on the above seller links you can help keep InflatableKayakWorld.com growing. When you make a purchase after clicking on our links, the retailer will contribute a portion of the sale to help support this site. It won't cost you anything extra and it's a simple way to help us fund our kayak and gear reviews. Thanks!