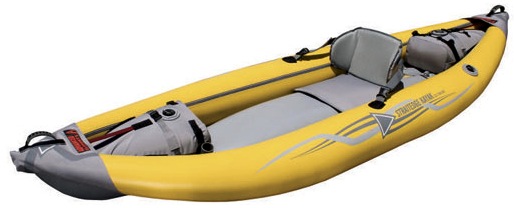 Best Uses: Rivers (up to class III rapids), Ocean, Day trips, Camping
Brand: Advanced Elements
Number of Paddlers: 1
Stats: Length 9' 8", Width 35", Weight 34 lbs, Load Capacity 300 lbs
Accessories Included: Carrying duffel bag, folding seat, repair kit, owner's manual
Kayak Material: Heavy-duty PVC Tarpaulin material for extreme puncture resistance
Pros: Stable, rugged, easy to lift, comfortable, compact, great maneuverability, easy entry and exit, dries fairly quickly, self-bailing
Cons: Does not track as well as the Advanced Elements Advanced Frame
Available At:
More Detailed Info
The Advanced Elements StraitEdge does not have the same popularity that the Advanced Elements AdvancedFrame has but it is a very versatile inflatable kayak.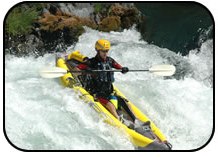 Fairly similar in price (the StraitEdge is just slightly more money), it has very positive reviews but not a lot of them.
What really stands out in what people are saying about the AE StraitEdge is that it is an extremely stable inflatable kayak. In fact you could lay back and have a nap and truly not worry about a thing.
This inflatable kayak was designed for whitewater paddling and is self-bailing. Although it will paddle best on whitewater with up to class III rapids it will still offer a decent performance in almost any type of water.
The StraitEdge has incorporated an aluminum bow and stern frame in order to help with tracking in open water.
This addition has made a huge difference in the tracking of this kayak, but there is still some room for improvement here.
Recommendations
The main air chambers in the StraitEdge are fairly wide and therefore a paddle of 230cm is recommended for optimum paddling.
The seat is padded and has high back support and so far everyone has stated that it is really comfortable.
The seat attaches to d-rings so there is always the option of adding in a better seat down the road if you plan on doing longer trips.
Drying this kayak out is definitely easier than the AdvancedFrame kayak as it has one less layer of material to dry.
Final Thoughts
Overall the Advanced Elements Strait Edge is a great inflatable kayak that is light weight and extremely portable and useful for traveling.
I would recommend it mostly for beginners to novice paddlers. I love the fact that it is self-bailing but also tracks decent in open water. For a recreational kayaker the StraitEdge is a great purchase.
Where To Buy
Click Here For The Best Deal On The Advanced Elements StraitEdge Inflatable Kayak At Outdoorplay.com.
Click Here For The Best Deal On The Advanced Elements StraitEdge Inflatable Kayak At Amazon.com.
Did You Know?
By clicking on the above seller links you can help keep InflatableKayakWorld.com growing. When you make a purchase after clicking on our links, the retailer will contribute a portion of the sale to help support this site. It won't cost you anything extra and it's a simple way to help us fund our kayak and gear reviews. Thanks!