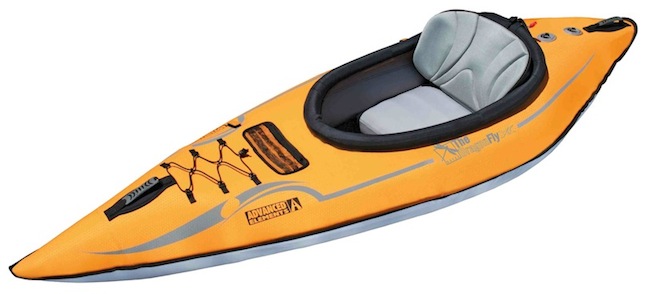 Best Uses: Lakes, mild rivers (class I – II), bays, estuaries, traveling
Brand: Advanced Elements
Number of Paddlers: 1
Stats: Length 8' 4", Width 34'', Weight 23 lbs, Load Capacity 250 lbs
Accessories Included: Molded rubber grip handles, bungee deck lacing, padded seat rests, tracking skeg, mesh pocket, carrying duffel bag, owner's manual, repair kit
Kayak Material: Double-coated PVC-coated nylon with ripstop tarpaulin fabric
Pros: Extremely lightweight so is perfect for traveling, fun and peppy, easy to inflate and use, very lightweight
Cons: Not very big so may get pulled by wind, only suitable for flat water
Available At:
Click here for the best deal on the Advanced Elements Lagoon 1 at Amazon.com.
More In-Depth Info
Advanced Elements used to have an inflatable kayak called the Dragonfly which was virtually identical to the Lagoon.
They have now done away with the Dragonfly and have made the new and improved Lagoon 1 their main second smallest inflatable kayak model.
The AE Lagoon 1 does not seem all that impressive at first glance as it is such a small inflatable kayak. However there are a lot of factors that make the Lagoon a very cool little kayak.
The absolute best thing about the Lagoon 1 is that it weighs only 23 pounds. If you are into traveling, it can go with you everywhere!
Pop it in your suitcase and carry it on the airplane, throw it in the trunk of your car, bring it with you everywhere because it is so convenient and easy to inflate and use.
This kayak is fairly peppy and offers better tracking than one would expect. It comes with a tracking fin which really helps.
It is not up to the level of the Advanced Elements AdvancedFrame or the Expedition but then again it costs a lot less, so a lesser performance is to be expected.
Only Use on Flat Water
It is fine to use this inflatable kayak either in lakes, oceans or rivers, but it is important to keep it on flatwater with not a lot of surf. It can handle class I or II waters but nothing more as there are no drain valves.
Keep in mind this is not a heavy duty inflatable kayak. It is durable and tough, but it is what it is… a smaller model that is super fun to paddle, but not a top of the line model. It is rugged enough and it will hold up very well.
Advanced Elements kayaks are known to be very popular with their designs and features. They are a well known and respected name brand and good quality comes standard with each of their models.
The seat in the Lagoon is comfy and will be fine for day trips. Even though this is a smaller kayak, a person over six feet tall should have no problem fitting comfortably.
It may be semi-snug for a bigger person, but comfortable none the less. There is an optional spray skirt that can also be used.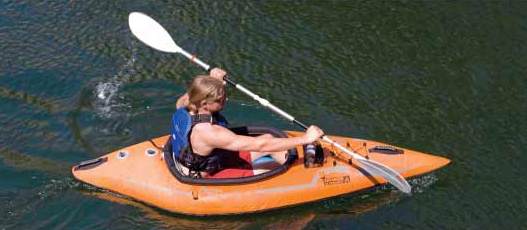 Final Thoughts
I would not hesitate to recommend the Lagoon to someone who wants a fast and easy way to get out on the water. It is more than perfect for traveling and really fun to paddle.
The only warning I would give is that you may find yourself wanting to update to a better performing, more solid inflatable kayak as you improve your paddling skills.
However this is always a handy kayak to have around and for the little amount that it costs, it offers a lot.
The Lagoon also comes in a tandem version for those looking to paddle with two people or for a little extra room… the Advanced Elements Lagoon 2.
Where To Buy
Click Here For The Advanced Elements Lagoon 1 Inflatable Kayak At Amazon.com.
Did You Know?
By clicking on the above seller links you can help keep InflatableKayakWorld.com growing. When you make a purchase after clicking on our links, the retailer will contribute a portion of the sale to help support this site. It won't cost you anything extra and it's a simple way to help us fund our kayak and gear reviews. Thanks!