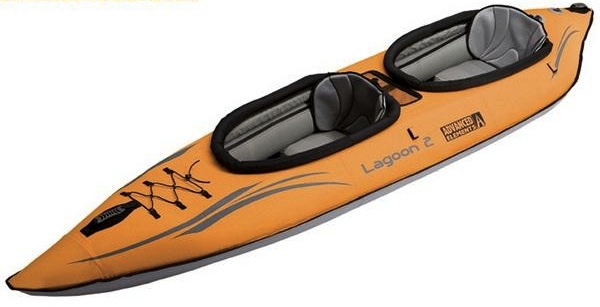 Best Uses: Recreation, flat water, calm ocean bay
Brand: Advanced Elements
Number of Paddlers: 2
Stats: Length 12', Width 35", Weight 35 lbs, Load Capacity 350 lbs
Accessories Included: Tracking fin, breathable kayak seat, heavy duty carrying duffel bag, repair kit, owners manual
Optional Accessories: Backbone – improves rigidity, tracking and overall performance. Spray skirt – will help keep you and the inside of the kayak dry as well as offers sun protection.
Kayak Material: High denier polyester rip-stop fabric with a PVC laminate – PVC tarpaulin hull
Pros: Easy to paddle, lightweight – great for traveling, very portable, compact, comfortable, rugged, good for all skill levels, quick set up time and very easy to inflate
Cons: Not very fast, tracks so-so, can only holds 350 pounds
Available At:
More In-Depth Info
The Advanced Elements Lagoon 2 inflatable kayak can offer a lot of fun for an affordable price.
It is a great two person kayak that performs best on flatwater such as lakes, slow rivers or a calm ocean.
The Lagoon is sturdy, rugged and constructed with heavy duty material that can withstand a lot of abuse.
Great features on this inflatable kayak include rubber-grip handles, bungee deck lacing to hold down gear, mesh accessory pocket, tracking skeg as well as a foam floor.
The seats in the Lagoon have adjustable back support and will provide enough comfort for a fairly long trip. Set up time is quick and inflation is simple with the easy to use Spring and Twistlok valves.
If you are trying to decide between the Lagoon 2 and the Advanced Frame Convertible here is basically what you need to know…
The Lagoon is not a fast kayak. If you want the option of paddling higher speeds as well as doing longer kayak trips, the Advanced Elements Advanced Frame Convertible is a better choice… it also tracks better than the Lagoon.
Keep in mind that the Advanced Elements Lagoon 2 only holds up to 350 pounds. If you plan on paddling with two people you will want to keep this weight restriction in mind.
The Convertible weighs about 20 pounds more than the Lagoon but it can also hold an extra 200 pounds. It depends on what your needs are.
The Advanced Frame Convertible also costs an extra couple of hundred dollars.

Final Thoughts
It comes down to this… if you are looking for a tandem inflatable kayak that is compact, affordable, rugged and super fun to use on calm water then the Lagoon 2 would make a great choice.
If you are more concerned with speed, tracking and higher performance, then you may want to look at a higher end model.
The Lagoon makes a great choice for traveling as it weighs only 35 pounds and is so easy and convenient to use.
Just keep in mind that the load capacity is only 350 pounds which isn't a heck of a lot for a tandem model but still works great for paddling solo or for two lighter people.
Where to Buy
Click Here For The Advanced Elements Lagoon 2 Inflatable Kayak At Outdoorplay.com.
Click Here For The Advanced Elements Lagoon 2 Inflatable Kayak At Amazon.com.
Did You Know?
By clicking on the above seller links you can help keep InflatableKayakWorld.com growing. When you make a purchase after clicking on our links, the retailer will contribute a portion of the sale to help support this site. It won't cost you anything extra and it's a simple way to help us fund our kayak and gear reviews. Thanks!