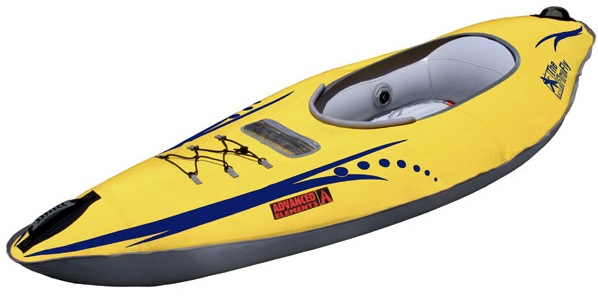 Best Uses: Lakes, streams, beginners
Brand: Advanced Elements
Number of Paddlers: 1
Stats: Length 7' 10", Width 35'', Weight 16 lbs, Load Capacity 250 lbs
Accessories Included: Carrying duffel bag, repair kit, owner's manual, tracking fin
Kayak Material: Durable PVC tarpaulin hull, Heavy-duty PVC main chamber, 600 D polyester cover
Pros: Super compact, comfortable, easy to lift, extremely lightweight, very quick to inflate, stable, very inexpensive
Cons: Not very big so may get pulled by wind, only suitable for flat water, seating area is fairly tiny
Available At:
Click here for the best deal on the Advanced Elements FireFly at Amazon.com.
More In-Depth Info
The Advanced Elements Firefly is small, compact and super lightweight. It is ideal for someone who wants a little inflatable kayak that can be transported anywhere by any mode of transportation… including on your back.
It is fun and very quick to inflate. It is not a high performer but will zip along quite nicely on flat water.
I would only recommend the AE Firefly if you are a beginner kayaker. This kayak is a lot of fun but will not likely meet any high expectations. It is what it is… an easy and affordable way to get out on the water.
The quality is excellent. Most of the Advanced Elements inflatable kayaks are built very sturdy and it will likely last a lot longer than you expect for the low price tag.
After you gain more experience paddling you will definitely want to upgrade to a more advanced model.
However if you are into camping or summers at the lake with the kids, then yes the Firefly might be a very useful way for the whole family to enjoy the water.
This inflatable kayak features rubber molded handles, bungee deck lacing, a mesh pocket, a tracking fin (very useful for paddling in a straight line) and new advanced inflation valves which make it very easy to pump up as well as to deflate.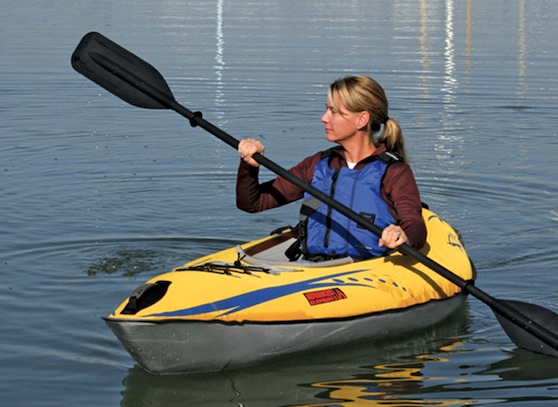 Final Thoughts
The reality is that this little inflatable kayak is a great buy for someone who is new to kayaking or looking for a great inflatable for their child to use. It is sturdy and rugged, yet tiny and compact.
It would not suit a larger person or someone who wants to paddle in different weather conditions. It is only suited for calm flatwater but makes for a very affordable and easy way to enjoy some recreational kayaking.
I think it would be a great kayak to own if you have children as the size and weight of it makes it very easy for a child to maneuver.
Where To Buy
Click Here For The Best Deal On The Advanced Elements FireFly Inflatable Kayak At Amazon.com.
Did You Know?
By clicking on the above seller links you can help keep InflatableKayakWorld.com growing. When you make a purchase after clicking on our links, the retailer will contribute a portion of the sale to help support this site. It won't cost you anything extra and it's a simple way to help us fund our kayak and gear reviews. Thanks!