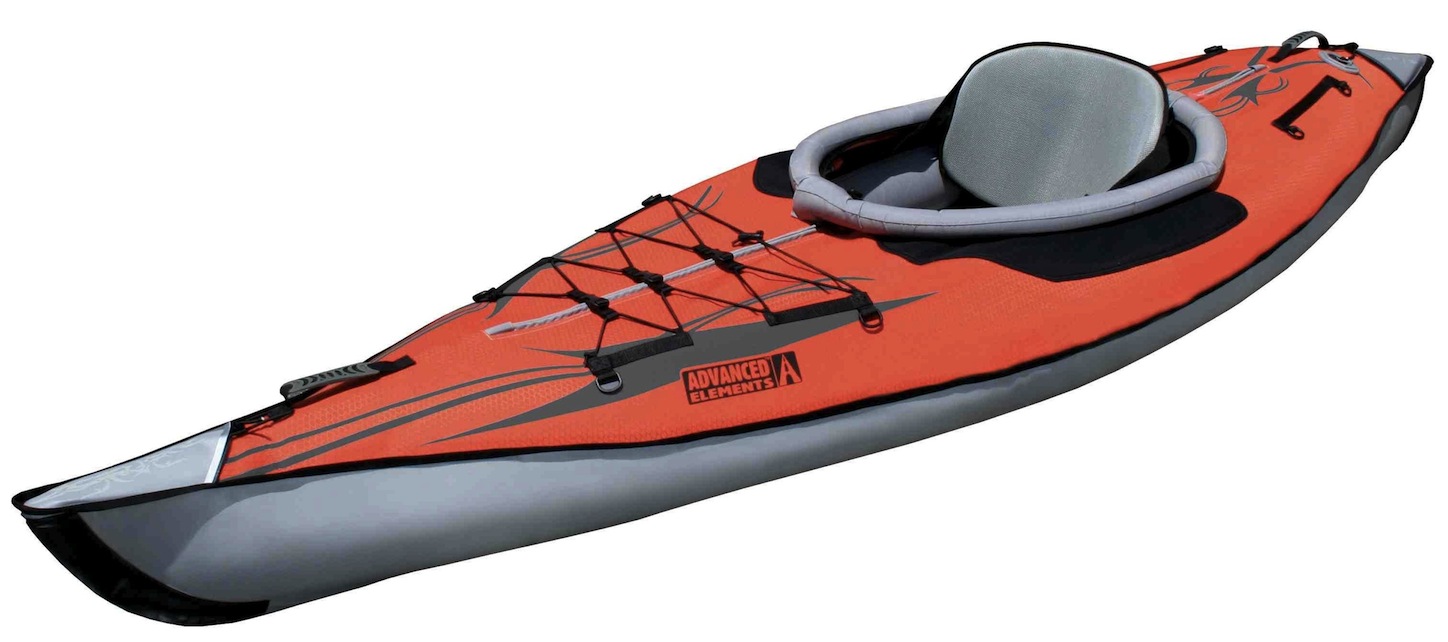 Best Uses: Day trips, flatwater, ocean, mild river, camping
Brand: Advanced Elements
Available At:
Number of Paddlers: 1
Stats: Length 10' 5", Width 32", Weight 36 lbs, Load Capacity 300 lbs
Accessories Included: Carrying duffel bag 30" x 17" x 10", folding seat, repair kit, owner's manual
Kayak Material: PVC Tarpaulin with 1000 denier polyester outer fabric, heavy-duty 30-gauge PVC main chamber, high density polyurethane-coated polyester inner cover
Pros: Stable, rugged, easy to lift, comfortable, great maneuverability, compact, easy entry and exit
Cons: Can easily get water in kayak and is handy to have a small water pump with you, takes a while to dry (bring a towel to help speed process)
More In-Depth Info
The Advanced Elements AdvancedFrame is an extremely popular inflatable kayak. There are several reasons for this.
It is an excellent price. For the amount of money paid, you get a very good, comfortable, and stable inflatable kayak.
It is fairly light and can easily be used by people of all ages.
It looks great and has some great accessories and deck options.

The reviews on this kayak have been very positive pretty much across the board and it seems that those who have purchased it absolutely love it!
The smaller size of this model makes it very easy to store. It deflates and rolls up into a nice neat package and can be stored and transported in its carry bag that is included when you buy it.
It inflates very quickly and is easily put in and removed from the water.
The AdvancedFrame works well for airplane travel as it is light enough to check in without any extra fees. It is known to be durable and tough and can easily be ready for any type of paddling experience.
There is a good amount of storage room, but keep in mind this is a smaller kayak so it won't have as much storage room as it's larger brother the tandem Advanced Elements AdvancedFrame Convertible.
If you want a little extra room the larger model is nice because it can be converted for solo use as well.
Performance
This kayak has a decent tracking fin which really helps to keep it going in a straight line and the speed is not too bad… should be good for most recreational paddlers.
It is not a top of the line model so I would not expect tip top performance. However there are very few complaints with the tracking or the speed. It is ideal for day trips and exploring.
There are built-in aluminum ribs that do help with the rigidity of the bow and stern as well as help with maneuverability. There is also an optional backbone for extra rigidity that can be added to this model if desired.
The smaller size makes it very easy to handle and it turns really easily. There is a removable foam seat with adjustable back support that is easily removed from the kayak when storing away.
The optional spray skirt is perfect for ocean kayaking and really helps to keep you dry and protected from the elements.
The Downside
There have been a few comments that it can be hard to get the water out of this model while kayaking.
I believe that no matter what kind of kayak you are using it is important to bring a small bilge pump along in order to get rid of excess water, especially if you will be paddling in rough water.
The AdvancedFrame has a closed-in deck so when water gets in, it will be harder to get it out then if you were paddling an open-decked inflatable kayak.
Click thumbnails for larger image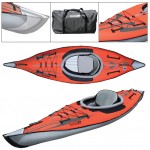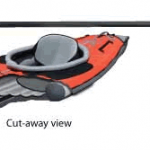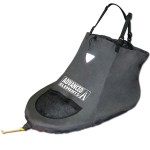 Final Thoughts
Bottom line is that as a recreational kayaker you cannot go wrong with this one. Whether you are a 60 year old women or a 200 lb man, the Advanced Elements AdvancedFrame will hold its own and offer a beautiful day on the water.
It is easy to handle and fun to paddle. Price, performance, durability and style… this inflatable kayak is not top of the line but it still gets five stars.
Where To Buy
This kayak is available at several different online stores. Click the links below to find the best deal.
Did You Know?
By clicking on the above seller links you can help keep InflatableKayakWorld.com growing. When you make a purchase after clicking on our links, the retailer will contribute a portion of the sale to help support this site. It won't cost you anything extra and it's a simple way to help us fund our kayak and gear reviews. Thanks!