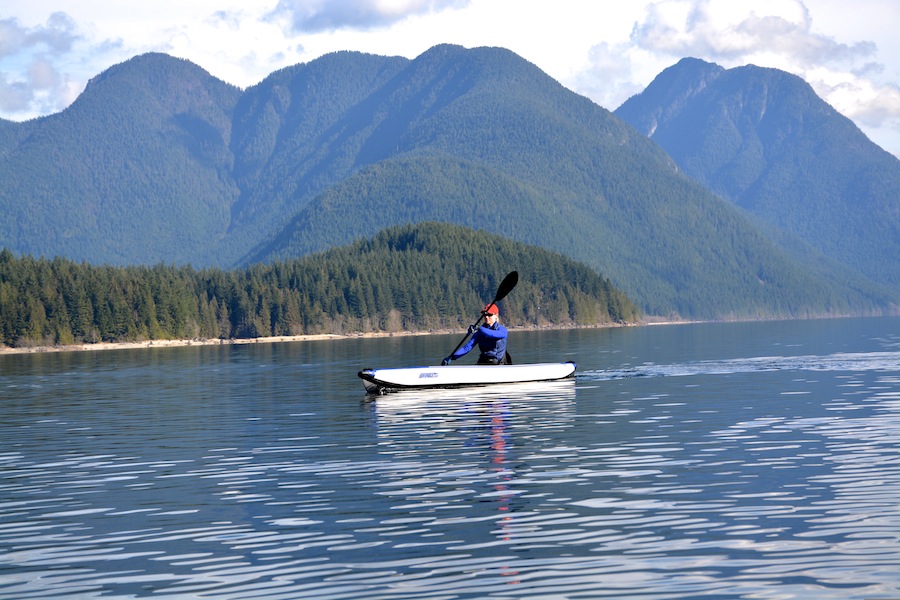 These are the inflatable kayaks chosen to be in the top five group. They were chosen for quality, stability, value, popularity, warranty and performance.
They are in no particular order as they each have their own unique features, uses, pros and cons.
For more detailed info click on the kayak names below to read our full detailed reviews…
The FastTrack came on the market in April 2010 and quickly became extremely popular. It is similar in size to the Sea Eagle 380X except just slightly slimmer. However it has the added advantages of only weighing 31 lbs. and has a unique design that offers much more speed.
The FastTrack was my personal inflatable kayak of choice for several years until Sea Eagle came out with their RazorLite kayak.   Even though I now mainly paddle my RazorLite there are still many times when my FastTrack gets put to good use.
The FastTrack is great on flat water but can also handle some mild whitewater. It has several packages to choose from including a solo model, a 2-seater, a sailing package, an electric motor package, and a great fishing package.
There is also a larger family sized 3 person model now available too (the 465 FastTrack) which is great for families and long expeditions. Both the tandem and 3 person models have the ability to adjust the seats to be paddled solo if desired. It also comes with a great three year warranty. Read our full review.

---
If you are looking for an all day river adventure inflatable kayak, the Lynx is a phenomenal option. Weighing only thirty-two pounds and backed by a ten year warranty, it is quality through and through.
It can handle up to class IV rapids beautifully and comes with the option of a closed-cell floor for higher performance or an air-cell floor for lighter weight.
The Lynx has gained huge popularity for good reason, it not only performs but is solid and rugged. It comes in a solo version as well as a tandem version. Read our full review.

---
The RazorLite is new out for 2015 and in my opinion is the best solo inflatable kayak I've ever paddled for flat water touring. It is totally unique from any other IK on the market.
This kayak is much sleeker in design with a narrow width of only 28″ (25″ at the waterline) for the solo model and 30″ wide for the tandem model. However what really makes it stand out is the fact that it is constructed with all drop-stitch technology.
What this means is that the RazorLite can hold much more air pressure and be inflated to a much higher PSI level than any other inflatable kayak. It can be inflated up to 10 PSI, whereas other IK's normally only hold a max of up to 6 PSI and often lower.
The higher air pressure creates a very rigid kayak. That along with the sleek straight design, the solid bow and stern molds, and the fact that the entire length of the kayak is in the water while paddling makes it a super performer.
It is not quite as stable as other IK's but it is truly a pleasure to paddle. Read our full review.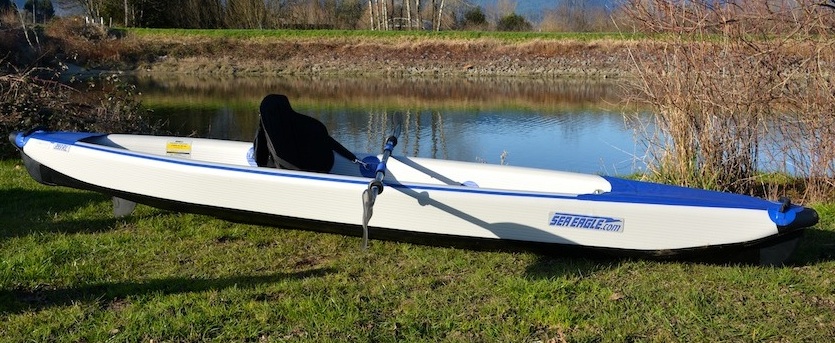 ---
I believe the Innova Helios EX is one of the best models out there for paddling on open water such as sea kayaking. There are many reasons the Helios is so popular including the fact that it only weighs 29 lbs. and rolls up really small into a backpack that is included in the purchase of the kayak.
It offers decent storage room and tracks along nicely. It will hold its own in wind and waves while ocean paddling.
It is ideal for someone that wants a kayak that is easy to manage, can be brought anywhere and is versatile enough to paddle well on the ocean as well as on a lake. There is a solo and tandem version available and they both come with a 2 year warranty. Read our full review.

---
The Outlaw isn't necessarily the best whitewater inflatable kayak out there but we believe it gives you a lot for your money and would suit a large variety of people.
For this reason the Outlaw really stands out. It's affordable, it's comfortable and stable and the design makes it an excellent performer.
This is the kayak that replaced the popular NRS Bandit that was discontinued in 2012. Although similar in size and shape, it has a few important differences worth exploring.
The Outlaw comes with a 3-year warranty, is able to easily handle up to class IV rapids (especially if you add thigh straps and a foot brace) and comes in a solo or tandem version.  Read our full review.