The majority of kayak paddles will either be all one piece or very commonly will come apart in two pieces. These are fine if you are only transporting your paddle in your vehicle.
However one of the great advantages of using an inflatable kayak is that you can take it traveling with you on an airplane or possibly even carry it in a pack on your back. In these cases it is sometimes nice to have a compact paddle that comes apart in 4-pieces. This makes it easier to pack up and take with you anywhere.
There are many different types of kayak paddles and they have quite a large price range. I am not a paddle expert in any way.  I know that kayak paddles can be carbon or fiberglass, can have different shapes and sizes that provide different comfort levels, control and can help reduce fatigue.
I have used several different paddles and I can certainly tell the difference between a really good paddle and a cheaper paddle. However that is basically where my knowledge ends.
That being said I do know that when I am traveling with my inflatable kayak I prefer to bring a 4-piece paddle with me as it is so convenient and easy to pack up and head out.
They are not always easy to find… especially to find a good quality one. However there are several decent 4-piece paddles available that are suitable for any expedition.
3 Great Options
Below are a few good recreational 4-piece paddles that I have found to work well for traveling. Each of these are fairly affordable yet pretty good quality. They are great for recreational paddling.
Sea Eagle AB40 or AB30 4 Part Paddle
– This one is the best price and sells for roughly $95. It has a fiberglass reinforced blade and weighs just over two and a half pounds (excellent for traveling).
Its asymmetrical spoon blade design supposedly requires less gripping force and less effort per stroke. It comes in two different sizes… the AB40 (8') or the AB30 (7' 10 ").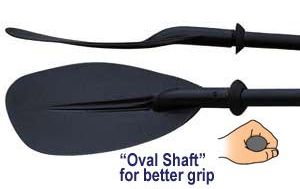 Aqua-Bound Sting Ray 4-Piece Paddle
– This paddle comes in three different sizes. It is fairly basic but in my opinion works fine and is a good price at roughly a hundred bucks.
It has an aluminum shaft and the blade is a blend of fiberglass reinforced thermoplastics. It is lightweight and durable.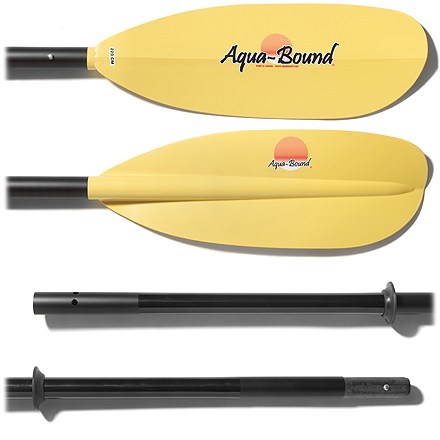 Aqua-Bound Sting Ray Carbon Shaft 4-Piece Paddle
– If you don't mind spending an extra 40 dollars this is a much better paddle.
It has a carbon shaft and fiberglass-reinforced nylon blades and supposedly delivers a high strength-to-weight ratio. Also the shaft has a slight flex which really does help with paddling comfort. This one also comes in three different sizes.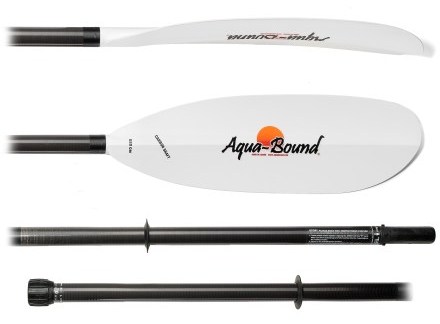 Want to travel with a kayak? Click here to find the best inflatable kayaks for traveling.