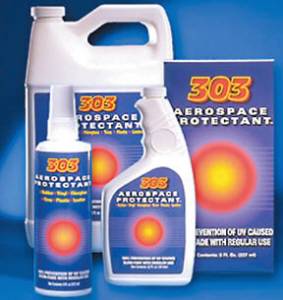 There is very little care involved with an inflatable kayak. Besides drying it out, cleaning it now and again with an inflatable boat cleaner or an all natural cleaning agent the only thing you really need to concern yourself with is making sure it is UV protected.
Just like us, inflatable kayaks and inflatable boats need UV protection. UV rays will eventually wear down the material and weaken it. There is a very simple solution to that problem and that is to use a 303 Aerospace Protectant Spray.
If you own an inflatable kayak or an inflatable boat you should definitely have a 303 protectant spray handy. This will literally offer the best protection for all inflatable kayaks, canoes, boats and rafts.
One 16 oz. bottle only costs approximately $15 and it will last a very long time. I have been the same bottle for two years now and I still have lots left. Granted I am probably not using it as often as I should be but it still lasts a very long time.
303 Protectant Features
Extremely effective UV protection for all inflatable boat materials including Hypalon, PVC and Nitrylon.
Restores color, shine and gloss without being oily.
Easy to use – spray on and wipe off.
Repels dust, soiling and staining and treated surfaces will stay cleaner longer.
Does not contain any silicone oils, waxes, glycerine or petroleum distillates.
Besides being good for inflatable kayak materials it can also be used on vinyl, leather, fibreglass, plastic windows and chrome.
Also improves resistance to chemicals and other types of harmful exposure.
Non toxic and non-flammable
Proper Use
303 Protectant Spray is guaranteed to work when it is properly used as directed. Therefore below is exactly how to use this UV protectant spray.
Spray the entire inflatable kayak surface with 303 Protectant while your kayak is dry – really spray it so that it is wet and not just damp. Then wipe the boat completely dry with a clean and dry towel. Polish the boat with a new dry and clean towel to remove any excess 303.
Once finished your kayak or boat will have a nice shine and look like new.
It is recommended that you spray your inflatable kayak every 30 – 45 days with the 303 Protectant Spray. I personally don't spray it that often but that is the recommendation for maximum protection.
Word of caution: One word of caution is that after first being sprayed your inflatable kayak material will be quite slick and slippery. So just be aware of this if you are spraying your seat or the area where you will be sitting or standing.
303 Aerospace Protectant Spray will help your inflatable kayak material stay strong for many years. It can be purchased at just about any inflatable kayak or inflatable boat retailer. See our list of inflatable kayak retailers for recommended online stores.